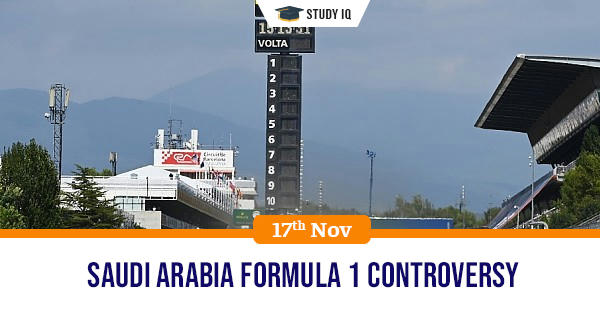 Saudi Arabia Formula 1 controversy
Date: 17 November 2020
Tags: Miscellaneous
Issue
Formula One has confirmed that Saudi Arabia would host its first race next year from November 26-28 at the port city of Jeddah.
Background
While F1 has expanded its orbit to now include races in 33 countries, human rights organisations have alleged that the event is actually part of the kingdom's sweeping 'sportswashing' plan.
Details
Activists say that several women activists, who fought for the right of women to drive, are behind bars, and dissent is crushed.

As per Amnesty, 13 activists are facing trial for charges such as "contacting foreign media, activists and human rights organisations".

Saudi Arabia banned women from driving back in 1957, and the first public protests happened in 1990 – when around 40 women drove down a prominent street in the capital Riyadh.

Police halted the protest, and several women were later suspended by their employers. But activists kept "The Women to Drive Movement" afloat with sustained protests.

Several women's rights activists posted their driving videos on YouTube to mark International Women's Day. Some of them were arrested, and were pressured to sign pledges saying they would refrain from driving.
Sportswashing
Sportswashing refers to hosting a sports event or owning a reputed sports team to improve the image of a country by attracting positive headlines.

It was notably seen during the Berlin Olympics in 1936 (opened by Adolf Hitler) and the 1978 FIFA World Cup in Argentina to the much more recent 2008 Olympics in Beijing, and the Sochi Winter Games in Russia.

Critics see it as essentially a public relations exercise which proves very effective. Sportspeople have a huge reach across different cultures and can draw positive headlines for countries with tarnished images.