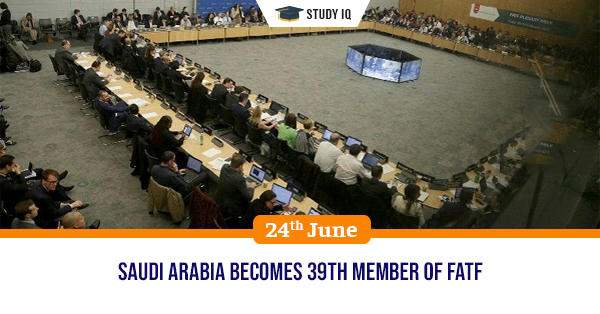 Saudi Arabia becomes 39th member of FATF
Date: 24 June 2019
Tags: International Organizations
Saudi Arabia became 39th member of Paris-based Financial Action Task Force (FATF). It is first Arab country to be granted full membership of FAFT. Saudi Arabia was granted observer status of FAFT in 2015.
About Financial Action Task Force (FATF)
· It is inter-governmental standard-setting body for anti-money laundering and combating the financing of terrorism (AML/CFT).
It was established in 1989 during G7 Summit in Paris (France) to combat growing problem of money laundering. It is headquartered in OECD headquarters in Paris, France.
· Initially, it was only dealing with developing policies to combat money laundering, its madate was expanded in 2001 to act against terrorism financing.
· Mandate: Set standards and promote effective implementation of legal, regulatory and operational measures for combating money laundering, terrorist financing and other related threats to the integrity of the international financial system.
· Members: It comprises 39-member jurisdictions (including India, China, Russia) and 2 regional organisations (Gulf Cooperation Council and European Commission).
· Functions: (i) Set global standards to combat money laundering and terrorist financing. Assess and monitor compliance with the FATF standards. (ii) Conduct studies of money laundering and terrorist financing methods, trends and techniques. (iii) Respond to new and emerging threats, such as proliferation financing used for promoting proliferation of nuclear, chemical and biological weapons.