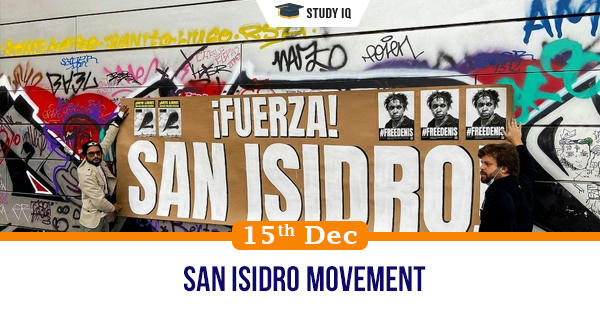 San Isidro movement
Date: 15 December 2020
Tags: Miscellaneous
Issue
The Movimiento San Isidro, or the San Isidro Movement (MSI) by artists and activists demanding greater freedom of expression is fast grabbing the limelight.
Background
Details
The movement started in September 2018, when the Cuban government sought to enforce Decree 349, a law that would have given powers to the nation's Culture Ministry to restrict cultural activity it did not approve of.

To protest against the decree, artists, poets, journalists, and activists gathered in San Isidro, a Black-majority locality that is among Havana's poorest yet most culturally active wards, and which also forms part of the Old Havana UNESCO World Heritage Site.

The greater access to internet, as provisioned under deal with US, allowed citizens to spread their word over the internet and grow the movement.

When the MSI demonstrated outside Cuba's parliament against the controversial censorship measure, the government was forced to heed to public sentiment, and agreed to suspend the decree's enforcement.

The Cuban leadership has continued to criticise the MSI, calling it an agent of "Yankee imperialism," unwittingly increasing its popularity around the world.
Cuba
Cuba is a country located in the northern Caribbean where the Caribbean Sea, Gulf of Mexico, and Atlantic Ocean meet.

The main island of Cuba is the largest island in Cuba and in the Caribbean. Cuba is the second-most populous country in the Caribbean after Haiti.

The country was a point of contention during the Cold War between the Soviet Union and the United States, and a nuclear war nearly broke out during the Cuban Missile Crisis of 1962.

Cuba is a sovereign state and a founding member of the United Nations, the G77, the Non-Aligned Movement, the African, Caribbean, and Pacific Group of States, ALBA, and the Organization of American States.