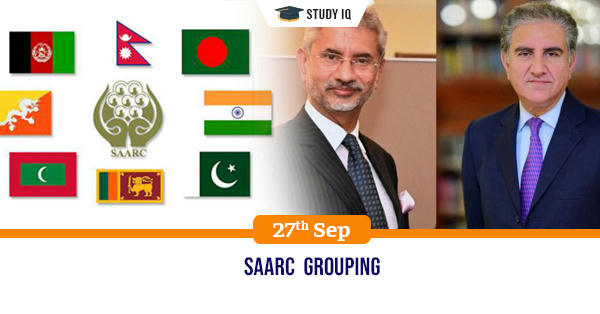 SAARC grouping
Date: 27 September 2019
Tags: International Organizations
Issue
Pakistan and India boycotted each other's statements at a meeting of South Asian Association for Regional Cooperation (SAARC) Foreign Ministers.
Background
The SAARC foreign minister's meet is currently being held in order to focus on the issues concerning south asia after the annual meeting has been cancelled owing to tensions between India and Pakistan.
Details
The South Asian Association for Regional Cooperation is the regional intergovernmental organization and geopolitical union of states in South Asia.

Its member states include Afghanistan, Bangladesh, Bhutan, India, the Maldives, Nepal, Pakistan and Sri Lanka.

SAARC was founded in Dhaka on 8 December 1985. Its secretariat is based in Kathmandu, Nepal.

Observers include Australia, China, Iran, Mauritius, South Korea, USA, European Union, Myanmar, Japan.
Programs of SAARC
South-Asian Free Trade Agreement(SAFTA)
The ultimate aim of SAFTA will be to put in place a full-fledged South Asia Economic Union on the lines of the EU.

promoting and enhancing mutual trade and economic cooperation by eliminating barriers in trade, promoting conditions of fair competition in the free trade area, ensuring equitable benefits to all and establishing a framework for further regional cooperation to expand the mutual benefits of the agreement.

It could lead to enhancement of foreign investment among Saarc nations. The visible spurt in foreign investment within Asean countries.
South Asia Satellite
The South Asia Satellite, also known as GSAT-9, is a geostationary communications and meteorology satellite operated by the Indian Space Research Organisation for the South Asian Association for Regional Cooperation region. The Participants are Bangladesh, Bhutan, Nepal, Sri Lanka and Afghanistan apart from India.