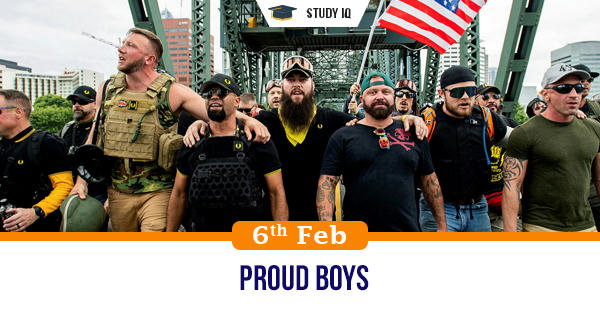 Proud Boys
Date: 06 February 2021
Tags: Miscellaneous
Issue
Canada has announced that it will be designating the US-based far-right group 'Proud Boys' as a terrorist entity.
Background
The all-male neo-fascist group will be added to a lengthy list of international terrorist organisations, that includes ISIS, Al Qaeda, and al-Shabab.
Details
The Proud Boys grabbed headlines worldwide last year during the first presidential debate between then-President Donald Trump and his Democratic contender Biden.

The all-male neo-fascist group was founded in 2016 by Vice Media co-founder and Canadian-British right-wing activist Gavin McInnes.

The Proud Boys are known for their anti-Muslim and misogynistic rhetoric and have been classified as an 'extremist group' by the FBI.

To be inducted into the fold, a Proud Boy must first proclaim that he is a Western chauvinist who refuses to apologise for creating the modern world.

The group claim that they do not support white supremacists, and merely banded together to oppose the activities of the anti-fascist movement known as Antifa.

Members of the group are often seen at rallies carrying guns and bats and a few have even been convicted of violent crimes against left-wing groups and activists.

They were also a regular feature at the nationwide anti-racism protests in the US sparked by the custodial killing of African American George Floyd.

The Proud Boys were known to intimidate anti-racism protesters and in some places have incited violence and fighting.
Reasons for ban
The Parliament in Canada had unanimously passed a motion calling on Canadian PM Justin Trudeau's government to ban the Proud Boys and to label them a terrorist group

The group was added to the list along with a number of other extremist groups with links to Al Qaeda, Islamic State, and Hizbul Mujahideen.

But some groups argue that banning the Proud Boys would expand the definition of terrorism to a point where free speech and the right to protest will be threatened.

Canadian officials will not be able to automatically make any arrests. But they will be able to seize their assets and prosecute members or associates for carrying out or contributing to extremist activities.

Even providing a terrorist group with funds would qualify as a crime. This also includes purchasing group-related clothing or paraphernalia.

Authorities will also be able to take down online posts with more ease and add the group's members to no-fly lists.