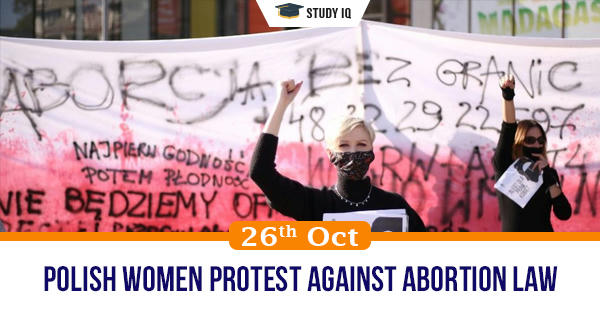 Polish women protest against abortion law
Date: 26 October 2020
Tags: Miscellaneous
Issue
Over the last four days, thousands of women have stormed the streets of Poland, protesting a recent court ruling that drastically restricts their right to access safe and legal abortions.
Background
Carrying banners and placards the demonstrators are demanding the reversal of the ruling by Poland's highest court.
Details
Clashes broke out when law enforcement authorities began to use pepper spray to disperse crowds of more than a hundred protestors in Warsaw.

Human rights activists and groups across the world, including Amnesty International, have widely condemned the Polish court's ruling, calling it an attack on women's basic human rights.

Poland's Constitutional Tribunal ruled that an existing law allowing abortions of malformed foetuses was unconstitutional, immediately provoking an outcry from women and pro-choice activists across the country.

Last year, MPs from the ruling nationalist Law and Justice party first launched a legal challenge against the country's 1993 abortion law, which so far permitted the termination of pregnancy on the grounds of foetal defects.

Poland's abortion laws were already considered some of the strictest in Europe. Now, once the court's decision is enacted, abortions will only be permitted in cases of rape, incest, or if there is a threat to the mother's life.

Despite Poland being one of the most staunchly Catholic countries in Europe, a number of opinion polls have shown that a majority of its citizenry has been against a more restrictive abortion law over the years.

If the draft law was to be enacted, women who were found to have had abortions could have faced a jail term of up to five years. Doctors who carried out or assisted in abortions would also be liable for jail time.