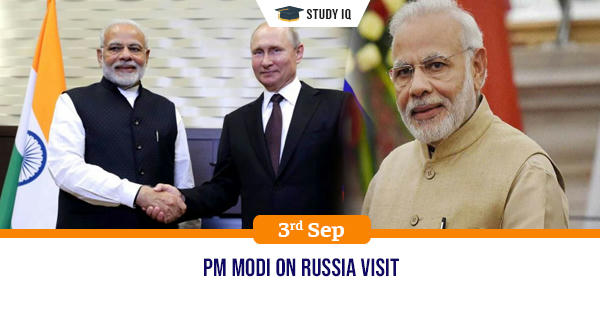 PM Modi on Russia Visit
Date: 03 September 2019
Tags: International Organizations
Issue
PM Modi will be the Chief Guest at the 5th EEF held in Vladivostok. He is expected to hold a bilateral meeting with Russian President Vladimir Putin which will focus on giving a boost to bilateral trade and investment and cooperation in the fields of defence, energy, infrastructure and various other sectors.
Background
The Indo-Russian strategic partnership has been built on five major components: politics, defence, civil nuclear energy, anti-terrorism co-operation and space.

The powerful IRIGC (India-Russia Intergovernmental Commission) is the main body that conducts affairs at the governmental level between both countries
Details
Modi and Putin are expected to discuss a proposal to establish a free trade zone between India and the Eurasian Economic Union (EAEU), a five-nation grouping, comprising Russia, Kazakhstan, Kyrgyzstan, Armenia and Belarus, which was formed in 2015 to create conditions for the stable development of economies of the member states.

During the EEF, a "Russia-India" dialogue is planned as part of the Forum's business programme, to be attended by representatives from both countries.

In addition, India will have a national stand at the EEF venue to present the country's economic, industrial, tourism and cultural highlights.
Eurasian Economic Forum
The EEF is held annually with the objective of facilitating accelerated development of the Russian Far East's economy and expanding international cooperation in the Asia-Pacific region.
Eurasian Economic Union (EAEU)
The Eurasian Economic Union (EAEU) is an economic union of states located in central and northern Asia and Eastern Europe.
The Treaty on the Eurasian Economic Union was signed on 29 May 2014 by the leaders of Belarus, Kazakhstan and Russia, and came into force on 1 January 2015.