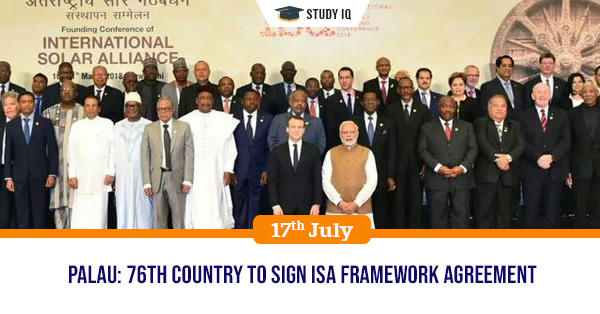 Palau: 76th country to sign ISA Framework Agreement
Date: 17 July 2019
Tags: International Organizations
Palau, an archipelago of over 500 islands in Oceania (in the western Pacific Ocean) became the 76th country to sign International Solar Alliance (ISA) Framework Agreement. It was signed by Palau President Tommy Remengesau during special ceremony at Permanent Mission of India to the United Nations. Till date, ISA Framework Agreement has been ratified by total of 54 of the 76 countries.
About International Solar Alliance (ISA)
It was jointly launched by India and France in 2015 on sidelines of COP-21 of UNFCCC in Paris. It was officially established on 6 December 2017, on the entry into force of the Framework Agreement.
It is headquartered (Secretariat) in Gurugram, Haryana. It is first treaty based international intergovernmental organization headquartered in India.
It is major global initiative for contributing to implementation of Paris Climate Agreement through rapid and massive deployment of solar energy and reduce dependence on fossil fuels.
Objective: Provide dedicated platform for cooperation among solar resource rich countries where global community, including bilateral and multilateral organizations, corporates, industry, and other stakeholders, can make a positive contribution to assist and help achieve common goals of increasing use of solar energy in meeting energy needs of prospective ISA member countries in safe, convenient, affordable, equitable and sustainable manner.
Membership: Its membership is open to those solar resource-rich States, which lie fully or partially between the Tropic of Cancer and the Tropic of Capricorn and are members of the United Nations. In first ISA Assembly held in New Delhi, the scope of its membership was expanded to all members of United Nations.
Collective ambition of ISA: (i) Address obstacles that stand in the way of rapid and massive scale-up of solar energy (ii) undertake innovative and concerted efforts for reducing cost of finance and cost of technology for immediate deployment of competitive solar generation and (iii) Mobilise more than US $1000 billion of investments by 2030. (iv) Accelerate development and deployment of over 1,000GW of solar generation capacity in member countries.
ISA's Five key programmes of action: (i) Scaling up solar applications for agricultural use (ii) affordable finance at scale (iii) scaling up solar mini-grids (iv) scaling up solar rooftop and (v) scaling up solar e-mobility and storage
ISA Secretariat has launched: (i) ISA Solar Award (Kalpana Chawla Solar Award) to recognize solar scientists doing extraordinary work across ISA member countries (ii) Solar Technology Application and Resource – Centre (iSTAR-C) to support capacity building efforts in ISA member countries.