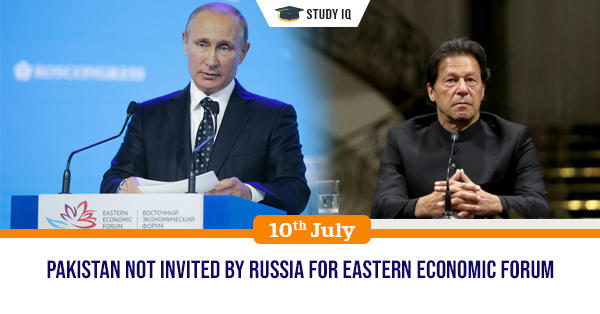 Pakistan not invited by Russia for Eastern Economic Forum
Date: 10 July 2019
Tags: International Organizations
Russia has clarified that Pakistan Prime Minister Imran Khan has been not invited for the Eastern Economic Forum (EEF-5) 2019 to be held in Vladivostok, Russia from September 4 to 6, 2019. This clarification comes after reports in Pakistani media that PM Khan has been invited for the EEF. The statement also comes at time when Indian Prime Minister Narendra Modi has been invited as the guest of honour' to EEF 2019. The invitation proposal for PM MOdi was forwarded by Russian President Vladimir Putin after two leaders had meet in Bishkek, capital of Kyrgyzstan on sidelines of 2019 Shanghai Cooperation Organization (SCO) summit.
About Eastern Economic Forum (EEC)
It is annual event held at Vladivostok, Russia to encourage foreign investment in the Russian Far East. It was established by Decree of Russian President Vladimir Putin in 2015. It provides platform for discussion of key issues in the world economy, regional integration, and development of new industrial and technological sectors, as well as of global challenges facing Russia and other nations.
Key objectives of EEF: Strengthen ties between international investment community, Russian business and federal, regional, and local government bodies. Conduct comprehensive expert assessment of economic potential of Russian Far East and improve region's competitiveness and attractiveness to investors both nationally and internationally. Showcase new investment and business opportunities such as advanced special economic zones, Vladivostok Free Port, and state support for high-potential investment projects.