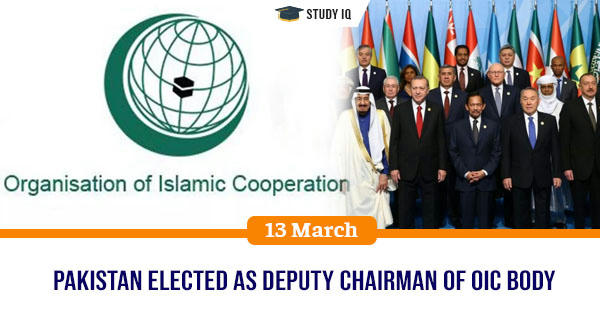 Pakistan elected as Deputy Chairman of OIC body
Date: 13 March 2019
Tags: International Organizations
Pakistan was elected as Deputy Chairman of General Body of Parliamentary Union of Organisation of Islamic Cooperation (OIC) in Rabat, Morocco The election of Pakistan to this forum comes after India for time attended inaugural plenary of 46th session of Council of Foreign Ministers (CFM) of OIC in Abu Dhabi. It was attended by External Affairs Minister Sushma Swaraj, making her first Indian minister to address the OIC meeting.
Parliamentary Union of the OIC member States (PUIC)
It is composed of parliaments of member states of OIC. It was established in Iran on June 17, 1999, with its head office situated in Tehran, capital city of Tehran.

It provides framework for comprehensive and fruitful cooperation and coordination among parliaments of OIC members in international fora and organizations.
Organisation of Islamic Cooperation (OIC)
It is international organization that aims to provide collective voice to Muslim world and safeguard and protect interests of Muslim world in the spirit of promoting international peace and harmony.

It was established in 1969. It has administrative centre (headquarters/ Secretariat) in Jeddah, Saudi Arabia.

It is second largest inter-governmental organization after United Nations.

It consists of 56 member states spread over four continents with collective population of over 1.3 billion as of 2009. It has five observer states.

It has permanent delegations to UN and European Union. Its official languages are Arabic, English, and French.

India though being third largest country (after Indonesia and Pakistan) in terms of Muslim population (It has about 12% of world's Muslim population), it is not member of OIC. India's membership has been blocked by Pakistan,