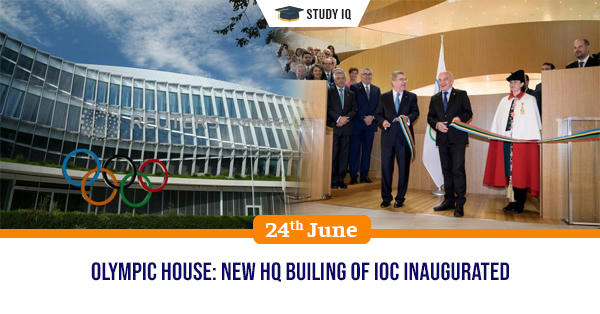 Olympic House: New HQ building of IOC inaugurated
Date: 24 June 2019
Tags: International Organizations
The International Olympic Committee (IOC) formally opened its new headquarters- Olympic House in Lausanne, Switzerland on the occasion of 125th anniversary of Olympic Games. It has been built on the site of the former headquarters.
Olympic House
It has been built on site of former Olympic headquarters. It is environment friendly efficient building, made by recycling and reusing 95% of old materials from old headquater building. Its power requirement is meet by renewable energy supplied using solar panels on roof and pumps taking water from Lake Geneva. Its central staircase links together 5 Olympic rings. It is designed by architecture firm 3XN of Denmark. Its energy-efficient building design has won international awards for sustainability.
About International Olympic Committee (IOC)
It is a non-governmental sports organisation headquartered in Lausanne, Switzerland. It was created on 23 June 1894. It is headquatered in Lausanne, Switzerland. The first Olympic Games of the modern era were held in Athens, Greece on 6 April 1896.

Mandate of IOC:

It is supreme authority of Olympic Movement and is responsible for organising the modern Summer and Winter Olympic Games. It is governing body of National Olympic Committees (NOCs), which are the national constituents of the worldwide Olympic Movement.

Membership:

It has 95 active members, 44 honorary members, 2 honour members (Senegal and United States), 206 individual National Olympic Committees which are officially recognised by IOC.