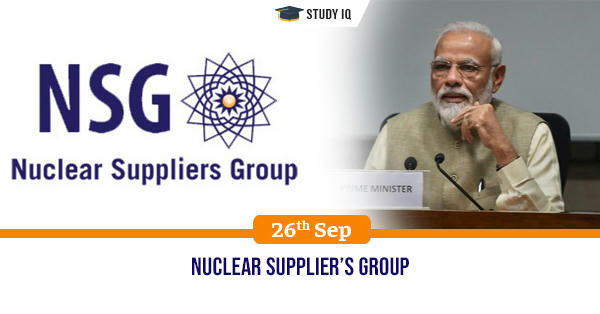 Nuclear Supplier's Group
Date: 26 September 2019
Tags: International Organizations
Issue
Prime Minister Narendra Modi made a call for India's membership of the Nuclear Suppliers Group (NSG) , as he addressed a largely business gathering in the Bloomberg Global Business Forum.
Background
Since India is not a member of the NSG, it does not have the ability to get the fuel for producing nuclear energy and nuclear energy is one of the important component of clean energy mission.
Details
The NSG controls most of the world's nuclear trade. While the U.S. and other countries support India's entry into the NSG, China has opposed it saying India has not signed the Nuclear Non Proliferation Treaty (NPT).
NSG
The Nuclear Suppliers Group (NSG) is a multilateral export control regime and a group of nuclear supplier countries that seek to prevent nuclear proliferation by controlling the export of materials, equipment and technology that can be used to manufacture nuclear weapons.

The NSG was founded in response to the Indian nuclear test in May 1974.

It has also been referred to as the London Group, or the London Suppliers Group. The name of the "London Club" was due to the series of meetings in London.
Member countries
https://en.wikipedia.org/wiki/Nuclear_Suppliers_Group
Advantages of NSG membership
Access to technology for a range of uses from medicine to building nuclear power plants for India from the NSG which is essentially a traders' cartel. To get its hands on state of the art technology that countries within the NSG possess, it has to become part of the group.

With India committed to reducing dependence on fossil fuels and ensuring that 40% of its energy is sourced from renewable and clean sources, there is a pressing need to scale up nuclear power production. This can only happen if India gains access to the NSG.

With access to latest technology, India can commercialize the production of nuclear power equipment.

Having the ability to offer its own nuclear power plants to the world means spawning of an entire nuclear industry and related technology development.

If India gets membership to the NSG, it can block Pakistan from its membership as entry into the grouping is by consensus only.