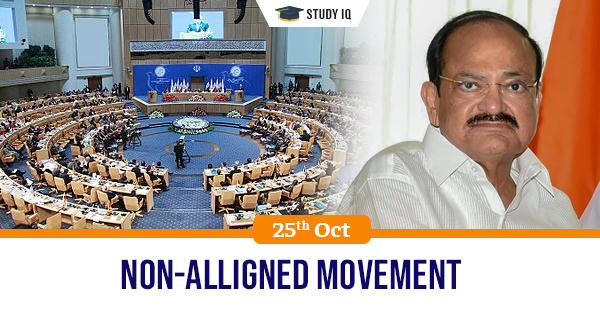 Non-Alligned Movement
Date: 25 October 2019
Tags: International Organizations
Issue
PM Modi will skip the Non-Alligned Movement summit for the second time in a row to be held in Baku, Azerbaijan. India will be represented by Vice President Venkaiah Naidu.
Background
Mr. Modi's absence indicates a decisive move away from past practice at the 60-year-old organisation that India was a founding member.
Details
India's representation at the 120-member movement began with the "Bandung Process" in 1956 by India, Indonesia, former Yugoslavia, Egypt and other countries.

Since it was inaugurated in 1961, the Indian Prime Minister has always attended the NAM summit, except once in 1979, when Chaudhury Charan Singh was the caretaker PM and hence missed it.
NAM
The Non-Aligned Movement (NAM) is a term used for an international organization who do not want to officially align themselves with, or against, any major power bloc (group of countries).

The countries of the non-aligned movement are nearly two-thirds of the United Nations's members and 55 per cent of the world population.

As of 2018, the movement has 125 members and 24 observer countries. The current Secretary-General of the movement is Nicolas Maduro, who took office in 2016.

NAM became an important part of India's foreign policy ever since, gaining unquestionable support by leaders globally.

Principles of NAM

Mutual respect for each other's territorial integrity and sovereignty

Mutual non-aggression

Mutual non-interference in domestic affairs

Equality and mutual benefit

Peaceful co-existence

There are 10 'Bandung Principles' that the candidate country has to follow to attain membership of NAM. These are listed here under.

Respect for fundamental human rights and for the purposes and principles of the Charter of the United Nations.

Respect for the sovereignty and territorial integrity of all nations.

Recognition of the movements for national independence.

Recognition of the equality of all races and of the equality of all nations, large and small.

Abstention from intervention or interference in the internal affairs of another country.

Respect for the right of each nation to defend itself singly or collectively, in conformity with the Charter of the United Nations,

Refraining from acts or threats of aggression or the use of force against the territorial integrity or political independence of any country.

Settlement of all international disputes by peaceful means, in conformity with the Charter of the United Nations.

Promotion of mutual interests and co-operation.

Respect for justice and international obligations