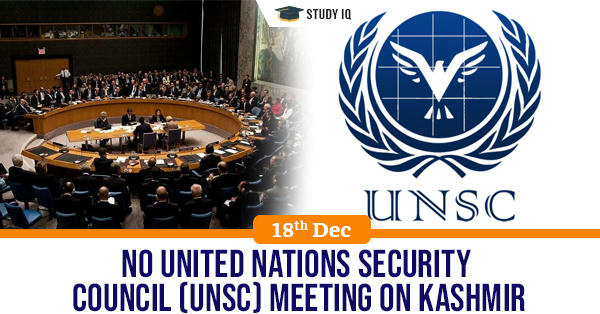 No United Nations Security Council (UNSC) meeting on Kashmir
Date: 18 December 2019
Tags: International Organizations
Issue
A move by China to get the Kashmir issue on the agenda for consultations in the United Nations Security Council (UNSC) has been thwarted by other members led by the US and France.
Background
China had earlier managed to hold informal closed-door consultations on Kashmir in the UNSC on August 16, days after India revoked the special status of Jammu and Kashmir under Article 370 on August 5.
Details
Beijing had sent a note to the UNSC over the weekend to "echo the request" of Pakistan for a briefing on Kashmir.

But the US, which holds the presidency of the UNSC for December, did not yield to the latest request by China. France also joined in and said that the Kashmir issue has to be discussed bilaterally.

China's move was rebuffed at a time when External Affairs Minister S Jaishankar and Defence Minister Rajnath Singh are meeting their American counterparts for the first 2+2 engagement.
UNSC
The United Nations Security Council (UNSC) is one of the six principal organs of the United Nations (UN), charged with ensuring international peace and security, accepting new members to the United Nations and approving any changes to its charter.

Its powers include the establishment of peacekeeping operations and international sanctions as well as the authorization of military actions through resolutions.

It is the only body of the United Nations with the authority to issue binding resolutions to member states.

The Security Council consists of fifteen members. The great powers that were the victors of World War II – the Soviet Union (now represented by Russia), the United Kingdom, France, Republic of China (now represented by the People's Republic of China), and the United States serve as the body's five permanent members.

These can veto any substantive resolution, including those on the admission of new member states or nominees for the office of Secretary-General.

In addition, the council has 10 non-permanent members, elected on a regional basis to serve a term of two years. The body's presidency rotates monthly among its members.

The ten non-permanent members are elected by the United Nations General Assembly for two-year terms starting on 1 January, with five replaced each year. A retiring member is not eligible for immediate re-election.