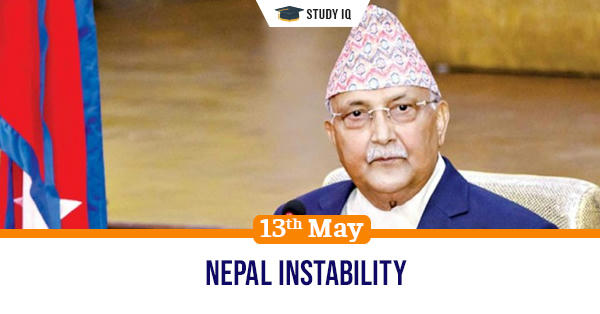 Nepal instability
Date: 13 May 2021
Tags: Miscellaneous
Issue
Nepal's Prime Minister KP Sharma Oli has lost vote of confidence in the Parliament that has put the country's fate in jeopardy amidst the pandemic.
Background
The rival faction of Communist Party of Nepal led by former PM Pushpa Kamal Dahal had withdrawn support to Oli that had forced a vote of confidence.
Details
The Nepalese Communist Party–Maoist Centre had given support to PM Oli during the general elections and later merged to form the Communist Party of Nepal.

PM Oli was hailed for his stand against India's economic blockade that was imposed after the promulgation of the new constitution.

He had also expressed unhappiness that aspirations of Terai people were not fulfilled under the new constitution.

Oli's image was tarnished when he refused to leave the seat for his partner in alliance, Pushpa Kumar Dahal, as was agreed during the merger of the party.
Post-vote scenario
After losing the vote of confidence, President Bhandari has asked parties to stake claim to form a government.

Failure to do so will force the President to invoke a clause in the constitution that mandates her to invite leader of the single largest party to form the government, which in this case is Oli himself.

Nepali congress leader Sher Bahadur Deuba has been contemplating to stake claim to form the government with support from various parties.
Nepal-India ties
India and Nepal ties have gone downhill since Oli took charge of the country. The economic blockade and later the Kalapani issue had escalated it.

Oli has since restrained himself from publicly abusing India. He has not increased his efforts to implement the new map.

Oli has put distance between him and China by not endorsing projects under Belt and Road Initiative. The extradition treaty with China has also not been signed.

The recent shift in his position with respect to India and allying with Terai parties are indication of support to him from India.