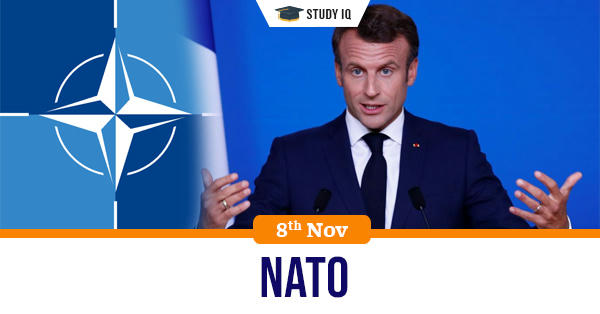 NATO
Date: 08 November 2019
Tags: International Organizations
Issue
French President Emmanuel Macron has said that NATO as an grouping was dying with its incapacity to work in a co-ordinated manner.
Background
France is a founding member of NATO but it has refrained from participating in military actions undertaken by the organisation, especially when there is an attack on any of its members.
Details
Mr. Macron has said there is a lack of strategic coordination between European allies on the one hand and the United States and Turkey, with NATO's second largest military, on the other.

The Secretary-General and many allies want to project an image of unity at the summit at a time of rising Chinese military might and what NATO leaders see as Russian attempts to undermine Western democracies through cyber attacks, disinformation campaigns and covert operations.

NATO was shaken by President Trump's portrayal of it as being in crisis at the last summit in Brussels and its image of unity was violated when Turkey defied its allies to launch a military incursion into Syria.

Macron's statement comes at the back of Trump's unilateral decison of pulling out of Syria without consulting European allies. The allies, including France feel that they are being considered juniors in middle-eastern affairs, which they want to change.

The European Union also recently launched its own multibillion-euro defence plans to develop and deploy military assets together after years of spending cuts that have left European militaries without vital capabilities and reliant on Washington.

With its military bases in Europe and nuclear warheads stored in five NATO countries, the United States remains the ultimate protector of European democracies against an increasingly assertive post-Soviet Russia.

Trump has accused European NATO allies of not shouldering their fair share of the cost of defending Europe. He has demanded they double NATO's defence spending goal of 2% of economic output, set in 2014.
NATO
The North Atlantic Treaty ,also called the North Atlantic Alliance, is an intergovernmental military alliance between 29 North American and European countries.

The organization implements the North Atlantic Treaty that was signed on 4 April 1949.

NATO constitutes a system of collective defence whereby its independent member states agree to mutual defence in response to an attack by any external party. NATO's Headquarters is located in Evere, Brussels, Belgium.
Members
Albania, Belgium, Bulgaria, Canada, Croatia, Czech Republic, Denmark, Estonia, France, Germany, Greece, Hungary, Iceland, Italy, Latvia, Lithuania, Luxembourg, Montenegro, Netherlands, Norway, Poland, Portugal, Romania, Slovakia, Slovenia, Spain, Turkey, United Kingdom, United States.