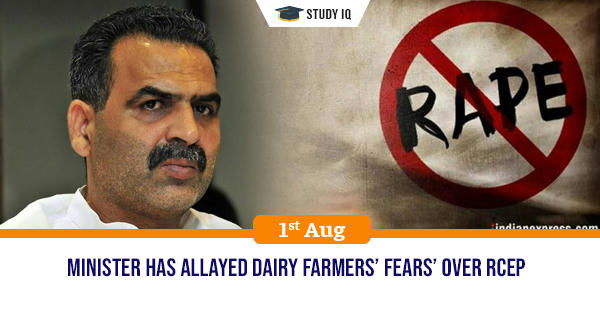 Minister has allayed dairy farmers' fears' over RCEP
Date: 01 August 2019
Tags: Indian Foreign Policy
Context: Indian farmers' unions said, in a memorandum submitted to the Minister of State of Fisheries, Animal Husbandry and Dairying, agriculture and dairy, must be kept out of the Regional Comprehensive Economic Partnership
About the issue:
GoI is negotiating RCEP with 15 nations

(ASEAN+6) in order to enhance trade.

However farmer's union are opposing inclusion of agriculture in this agreement
What are the grievances of farmer's union?
The memorandum submitted warns that 15 crore Indian livestock farmers who depend on dairy for their livelihood would be left devastated if the dairy market is opened up.
Why is this issue a matter of concern?
RCEP member-countries New Zealand and Australia are aggressively seeking "to access India's massive dairy market to dump their products."
New Zealand produces 22 million tonnes of milk products and exports 19 million tonnes. However, there are only 12,000 dairy farmers in the country; in fact, there are more dairy cows than people in New Zealand.
Contrary to this India has 15 crore dairy farmers who produce 156 million tonnes, most of it consumed domestically.
What is the response of the ministry?
The Ministry assured farmers that

all efforts would be made to put dairy on the negative list of the RCEP
What is RCEP?
The Regional Comprehensive Economic Partnership (RCEP) is a proposed free trade agreement (FTA) between the ten member states of the Association of Southeast Asian Nations (ASEAN) (Brunei, Cambodia, Indonesia, Laos, Malaysia, Myanmar, the Philippines, Singapore, Thailand, Vietnam) and the six indo-Pacific states