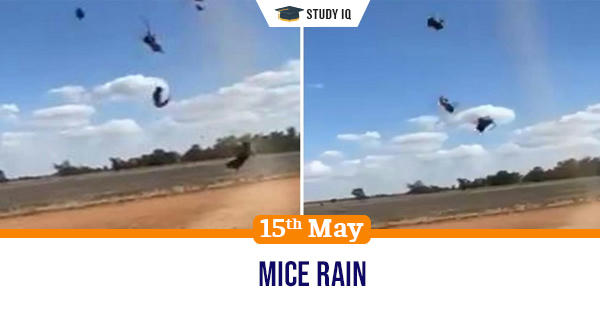 Mice rain
Date: 15 May 2021
Tags: Miscellaneous
Issue
A devastating mice plague has been infesting farmers of Australia. This has forced the government to provide economic package to negate the losses.
Background
The intensity of the mice attack has been so huge that it is dubbed as 'mice rain'. There has been tremendous increase in numbers.
Details
The government has been planning to authorise use of a deadly banned poison known as bromadiolone to control the plague.

Agriculture and environment experts have said that the plague is an economic and public health crisis that needs suitable compensation.
Start of plague
The plague is one of the worst in decades and began to manifest in eastern parts of Australia since mid-March.

The effect was more in rural areas where some farmers lost their entire harvest to these creatures. Hotels had to be closed as they could not be prevented from entering inside.

Experts cite the unusually high grain harvest in the earlier season that spiked the number of mice. Reports have emerged of mice falling from roofs.

The other reason may be due to the short breeding cycle of mice, which is once in 21 days. Their food needs are also diverse and can adjust in all conditions.
Effect of plague on people
Rodents have the ability to destroy food grains and also cause damages to farms, domestic households, manufacturers, commercial business and livestock.

They can cause diseases such as typhus fever and leptospirosis. They also carry organisms such as ticks that can affect humans and pets.

They destroy property by creating holes in ceiling, wall, bathroom, gardens, store houses, granaries and forests.
Controlling the plague
Increase in zinc phosphide in mouse baits can be helpful in tackling the larger than normal mice numbers in the country.