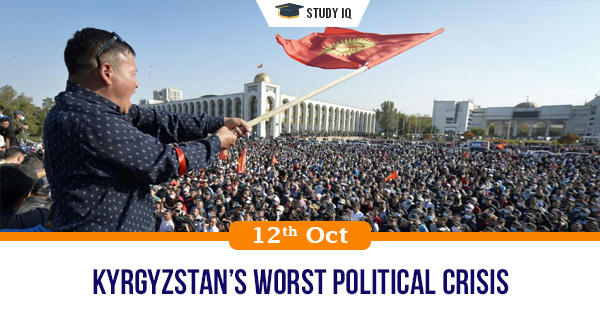 Kyrgyzstan's worst political crisis
Date: 12 October 2020
Tags: Miscellaneous
Issue
Over the past few days, Kyrgyzstan in Central Asia has seen violent protests. Thousands of participants clashed with police forces in the country's capital, Bishkek.
Background
Often referred to as the only democracy in the region, the country is witnessing one of its worst political crises in decades.
Details
Kyrgyzstan president, Sooronbai Jeenbekov, declared a state of emergency in the capital till October 21, giving permission to the military to step in after a fresh set of clashes broke out between supporters of rival politicians.

Jeenbekov went into hiding after protestors took over government buildings, including the presidential house.

Protests erupted after the results of the parliamentary elections were declared earlier this month, with the Opposition and demonstrators alleging that the results were rigged.

Parliamentary elections, which were held in the country on October 4, gave pro-government parties the required numbers to enter Parliament.

This meant that the parties allied with the government won nearly all the seats in the 120-seat chamber.

In total, 16 parties were contesting the elections. The opposition parties have made allegations that the winning parties indulged in vote-buying.

Since the protests started, the elections have been annulled and will be re-held. The protestors took over most of the government apparatus after the elections, halting some foreign gold mining operations that have evoked an expression of concern from Russia, Kyrgyzstan's ally.

On October 6, members of Kyrgyzstan's parliament unanimously approved Sadyr Japarov as the country's new prime minister, who was in detention but was freed by protestors.