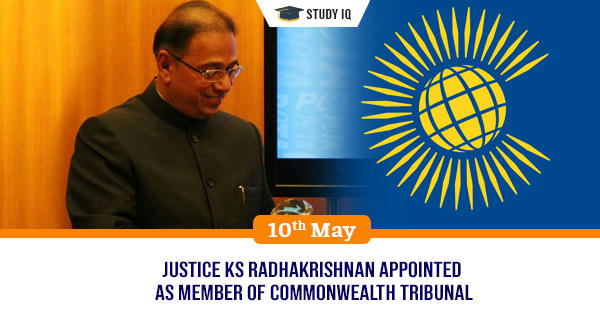 Justice KS Radhakrishnan appointed as Member of Commonwealth Tribunal
Date: 10 May 2019
Tags: International Organizations
Former Judge of Supreme Court of India-Justice (Retired) KS Radhakrishnan was appointed as Member of Commonwealth Secretariat Arbitral Tribunal (CSAT). He will have term of four years from June 1, 2019 to May 31, 2023.
Justice (Retired) KS Radhakrishnan
He had served as Judge of Supreme Court for five years from November 2009 to May 2014. Prior to this, he had served as Chief Justice of Gujarat High Court and Jammu and Kashmir High Court.
During his stint as Supreme Court judge, he had dealt with some important and famous cases such as SEBI v Sahara case, Jallikattu Ban Ruling (2014), etc. He was also part of two-judge SC bench which had ruled in NALSA v Union of India case (2014), recognising transgender as third gender and giving them same Constitutional rights as others.
Commonwealth
It is international intergovernmental organisation of countries that were mostly former territories of British Empire and dependencies. It was established in 1949 by London Declaration. 53 counties including India are its members. Queen Elizabeth II is Head of Commonwealth.
About Commonwealth Secretariat Arbitral Tribunal (CSAT)
It resolves disputes of Commonwealth organisations, international or intergovernmental. It is based in London, United Kingdom.
Mandate: It functions under statute agreed by Commonwealth governments. It hears applications brought by staff of Commonwealth Secretariat or any person who is in contract with Commonwealth Secretariat. It entertains only such cases in which organisations agree to surrender to its jurisdiction.
Members: It has a total of eight members, comprising President and 7 Members. They are selected by the Commonwealth Governments. Members are appointed for four year term. Their term can be renewed, but only once. In hearing of case, CSAT panel generally includes three judges (memebrs) - President and two Members, selected by President.