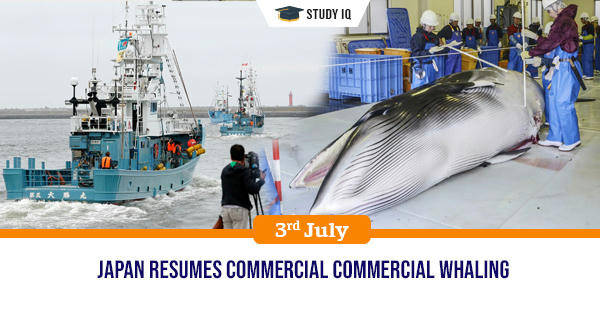 Japan resumes commercial whaling
Date: 03 July 2019
Tags: International Organizations
Japan has resumed commercial whaling more than three decades after it had announced its withdrawal from International Whaling Commission (IWC), 1986 in December 2018. With this, Japan joins Russia, Iceland and Norway in openly defying IWC's global ban on commercial whale hunting
Japan's withdrawal from ICW
Japan had withdrawn after IWC had declined to approve its bid for commercial whaling under pretext of scientific research. It has resumed commercial hunting of whales and hunt species with so-called "healthy" population numbers only in its territorial waters and exclusive economic zone (EEZ). It will not undertake whaling activities in Antarctic waters or in the southern hemisphere. Moreover, Japan's Fisheries Agency has set cap for total catch of 227 whales through the season until late December 2019.
Reason for withdrawal
Japan claims that hunting of whales has been part of its long history. Whales have been source of protein and for variety of other purposes. It was subsistence hunting mainly to support local communities, and thereby developed life and culture of using whales.
Japan argues that moratorium of whale hunting was supposed to be temporary measure and has accused IWC of abandoning its original purpose – managing sustainable use of global whale stocks. It also claims that populations of certain types of whale – such as the minke – have recovered sufficiently to allow the resumption of "sustainable" hunting.
For years, Japan was exploiting loophole in IWC's international moratorium on whale killings and hunted certain number of whales for what it claimed is scientific research. It also had failed to win IWC support for proposal to change IWC's decision-making process – a move that would have made it easier for Japan to secure enough votes to end commercial whaling ban.
In September 2018, majority of member nations at IWC annual symposium held in Florianopolis, Brazil had approved non-binding resolution-Florianopolis Declaration stating that commercial whaling was no longer valid economic activity or needed for scientific research. It had rejected Japan's proposal to renew commercial whaling.
International Whaling Commission (IWC)
It is international organization set up under International Convention for the Regulation of Whaling (ICRW).

ICRW was signed in 1946 in Washington, D.C., United States to provide for the proper conservation of whale stocks and thus make possible orderly development of the whaling industry.

It governs commercial, scientific, and aboriginal subsistence whaling practices of fifty-nine member nations. It is headquarter is in Impington, near Cambridge, UK.

In 1986, it adopted complete moratorium on commercial whaling and this ban still continues. However, it allows non-zero whaling quotas for aboriginal subsistence and also member nations may issue 'Scientific Permits' to their citizens.

Florianopolis Declaration:

It was adopted at IWC annual symposium in September 2018. It held that purpose of the IWC is conservation of whales and member countries will now safeguard marine mammals in perpetuity and will allow the recovery of all whale populations to pre-industrial whaling levels.
Whale Sanctuaries
In 1994, IWC created Southern Ocean Whale Sanctuary surrounding continent of Antarctica. Here, it had banned all types of commercial whaling. Only two such sanctuaries till date have been designated by IWC. Another is Indian Ocean Whale Sanctuary proposed by Seychelles.