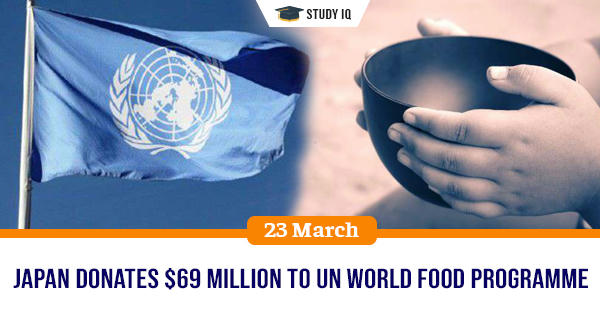 Japan donates $69 million to UN World Food Programme
Date: 23 March 2019
Tags: International Organizations
Japan has donated US $69 million to United Nations World Food Programme (UN-WFP). Japanese funding will go towards food, nutrition and initiatives to build resilience of vulnerable populations in 28 countries in Middle East, Africa, and Asia. Its biggest share has been earmarked for war-wracked Yemen and Iraq. Japan is one of WFP's top donors and has so far contributed $958 million to UN-WFP y since 2014.
UN-World Food Programme
It is food-assistance branch of United Nations. It is world's largest humanitarian organization addressing hunger and promoting food security.

It strives to eradicate hunger and malnutrition, with ultimate goal of eliminating need for food aid itself.

It is member of United Nations Development Group (UNDG) and part of its Executive Committee.

It was established in 1961 after Food and Agricultural Organization (FAO) Conference 1960.

It is headquartered in Rome, Italy. It has more than 80 country offices around the world.

Objectives:

(i) Save lives and protect livelihoods in emergencies, (ii) Support food security and nutrition (iii) (re)build livelihoods in fragile settings and following emergencies (iv) reduce risk and enable people, communities and countries to meet their own food and nutrition needs (v) reduce under-nutrition and break inter-generational cycle of hunger and (vi) Zero Hunger in 2030.

Functions:

It works to help people who cannot produce or obtain enough food for themselves and their families.

It is also directed to fight micronutrient deficiencies, reduce child mortality, improve maternal health and combat disease, including HIV and AIDS.

Its food-for-work programmes help promote environmental and economic stability and agricultural production.

It provides food assistance to average of 80 million people in 75 countries each year.