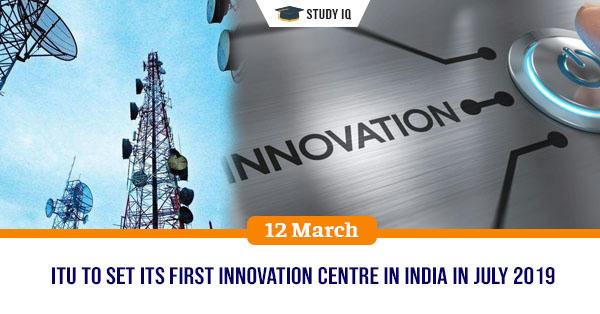 ITU to set its first innovation centre in India in July 2019
Date: 12 March 2019
Tags: International Organizations
The United Nations' telecom body- International Telecommunications Union (ITU) is planning to set up its first-ever innovation centre in India along with ITU's first regional office for south Asia in India.
ITU innovation centre
It will incorporate technologies from south Asian countries and emerging economies in standards for technologies. It will begin its operations from July 2019.

It will work on adoption of technologies by small and medium businesses (SMEs) to enhance their productivity.

It will collaborate with firms in region for joint research in the field of standardisation for 5G, artificial intelligence and upcoming new technologies.

It is expected to give opportunity to Indian technology firms to make their case for being part of global standards.

At present, telecom sector is largely influenced by companies from developed countries and have huge influence on telecom businesses globally.
About International Telecommunications Union (ITU)
It is United Nations specialised agency that coordinate telecommunication operations and services throughout world. It is headquartered in Geneva, Switzerland.

It was originally founded in 1865, as International Telegraph Union. This makes it oldest existing international organization.

Membership: I

t has total 193 countries as its members and also 800 private-sector entities such like carriers, equipment manufacturers and academic institutions etc,

It consists of three sectors: (i) Radiocommunication (ITU-R):

It ensures optimal, fair and rational use of the radio frequency (RF) spectrum. (ii) Telecommunication Standardization (ITU-T): It formulates recommendations for standardizing telecommunication operations worldwide. (iii) Telecommunication Development (ITU-D): It assists countries in developing and maintaining internal communication operations.

Functions:

It sets and publishes regulations and standards relevant to electronic communication and broadcasting technologies of all kinds including radio, television, telephone, satellite and internet.
It helps emerging countries to establish and develop telecommunication systems of their own.

It conducts working parties, study groups and meetings to address current and future issues and to resolve disputes.

It recommendations are non-binding but it member countries adhere to them in interest of maintaining effective international electronic communication environment.

It organizes and conducts exhibition and forum known as the Global TELECOM every four years.