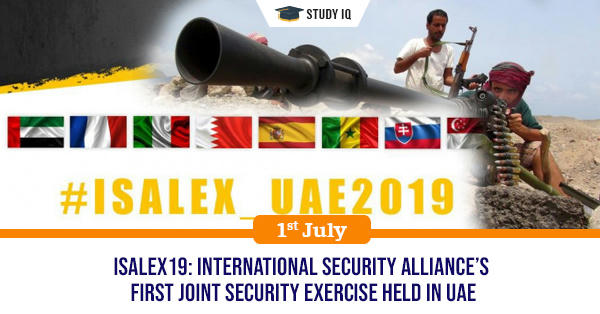 ISALEX19: International Security Alliance's first joint security exercise held in UAE
Date: 01 July 2019
Tags: International Organizations
The first edition of joint security exercise of International Security Alliance (ISA) named ISALEX19 was held in Abu Dhabi, Untied Arab Emirates (UAE). It was aimed at testing readiness of the different teams and to evaluate tools, strategies and procedures developed jointly between member countries.
About International Security Alliance
It is international collaboration (working group) of Ministries of Interior from eight countries aimed at combating organized, transnational and extremist crimes. It was launched in February 2017. Its Secretariat is located in Abu Dhabi, UAE.
Members ( 8 Countries): United Arab Emirates (UAE), France, Bahrain, Morocco, Italy, Senegal, Singapore and Spain.
Mandate: Promote internal security cooperation among its member countries, in particular with regards to strategic priorities: (i) Preventing and combating transnational organized crime; (ii) Preventing and combating forms of radicalisation and violent extremism; (iii) Management of borders.