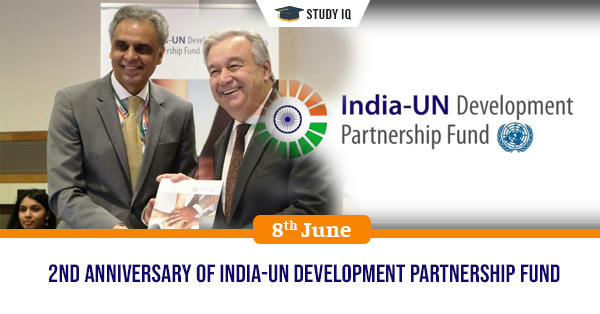 2nd anniversary of India-UN Development Partnership Fund
Date: 08 June 2019
Tags: International Organizations
United Nation's Secretary General Antonio Guterres has praised India-UN Development Partnership Fund on its second anniversary for championing greater prosperity for all while contributing to South-South cooperation. He held that through this initiative India is championing greater prosperity and opportunity for all. This initiative also has been held up by UN leaders as model for cooperation among developing countries.
About India-UN Development Partnership Fund
It is dedicated facility within United Nations Fund for South-South Cooperation (UNOSSC). It was established in 2017.

It is supported and led by Government of India and managed by United Nations Office for South-South Cooperation (UNOSSC). It implemented in collaboration with the United Nations system.

Mandate:

It supports Southern-owned and led, demand-driven, and transformational sustainable development projects across the developing world, with focus on least developed countries (LDCs) and small island developing states.

India's contributions:

It has committed total of US $150 million for this fund over the next decade to support projects that are in alignment with 2030 Agenda for Sustainable Development. It has already disbursed $22 million during past two years to finance 36 projects in 37 partnering countries.