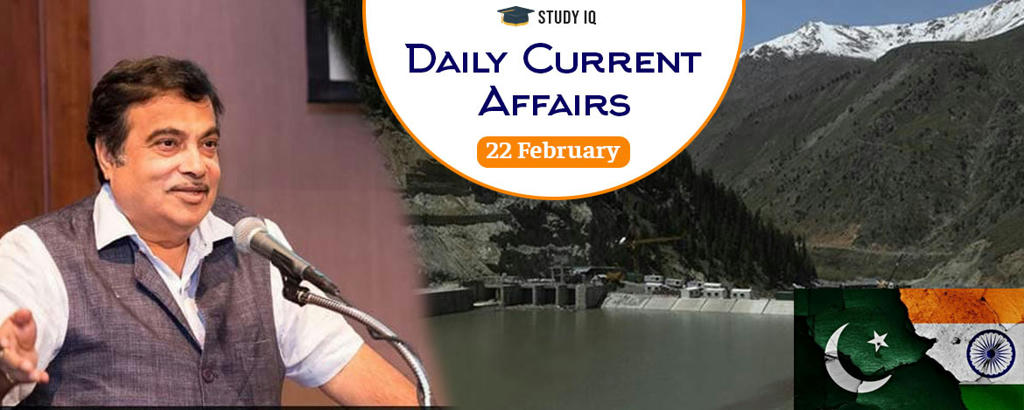 India to stop water flowing from eastern rives to Pakistan
Date: 22 February 2019
Tags: Indian Foreign Policy
Union Water Resources Minister Nitin Gadkari has announced that India will no longer allow its share of eastern river waters under 1960 Indus Waters Treaty (IWT) to flow into Pakistan. This comes as part of punitive measures that can be against Paksitan following Pulwama terror attack in which 40 soldiers were killed.
Government's decision
India will stop its share of water which used to flow to Pakistan. It will be diverted from eastern rivers to Jammu and Kashmir and Punjab.

It is in line with government's earlier decision (taken after Uri attack in 2016) to fully harness all waters of eastern rivers in order to stop flow of unutilized water to Pakistan.

In this regard construction of Shahpur-Kandi Dam (in Punjab) on Ravi River and Ujh project on Ujh River (tributary of Ravi in J&K) has started. Both these projects have been declared as national projects.
Indus Waters Treaty
It is water-distribution treaty between India and Pakistan which was brokered by World Bank (then International Bank for Reconstruction and Development).

It was signed on September 19, 1960 by then Indian Prime Minister Jawaharlal Nehru and President of Pakistan Ayub Khan in Karachi.

It deals with sharing of water of Indus water system having six rivers —Indus, Chenab, Jhelum, Beas, Ravi and Sutlej between two neighbouring countries.

Control over Rivers:

Under it, India has been given control over three eastern rivers Ravi, Beas and Sutlej while Pakistan has been control over three western rivers Indus, Jhelum and Chenab.

These three western rivers need to flow unrestricted to Pakistan. It allows India to use only 20% of water of Indus river for non-consumptive purpose i.e. irrigation, power generation and transport.

Cooperation mechanism:

It also sets out mechanism for cooperation and information exchange between two countries regarding their use of the rivers.

It sets up Permanent Indus Commission (PIC) as bilateral commission to implement and manage this treaty.

PIC is mandated under it to solve disputes arising over water sharing. Besides, it also provides arbitration mechanism to solve disputes amicably.

It also makes mandatory for both countries to appoint water commissioners, who are required to meet twice in a year and arrange technical visits to projects' sites.

Note:

It is most successful water sharing treaty in world and has survived India-Pakistan wars of 1965, 1971 and 1999 Kargil standoff, besides Kashmir insurgency since 1990.

Tussle:

water sharing of these rives is hot-button issue for Pakistan and it has always raised issue of "unfair water-sharing" from India in its dialogue. India claims that it has always honoured its commitments under this treaty, but Pakistan claims the opposite.