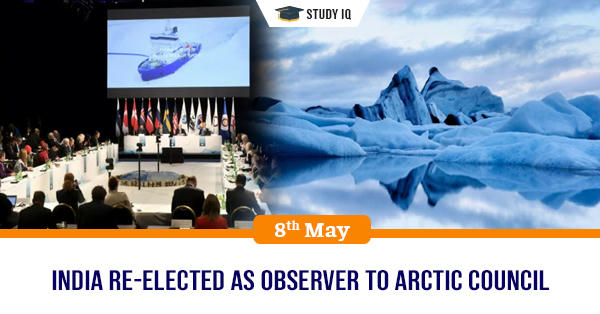 India re-elected as observer to Arctic Council
Date: 08 May 2019
Tags: International Organizations
India was re-elected as Observer to intergovernmental forum Arctic Council. The decision was taken during the 11th Arctic Council Ministerial Meeting held in Rovaniemi, Finland. Besides in this meeting, International Maritime Organisation (IMO) was appointed as a new Observer of Arctic Council. India for first time was successfully granted observer status to Arctic Council in 2013 during Kiruna Ministerial meeting held in Sweden.
Arctic Council
It is leading intergovernmental forum promoting cooperation, coordination and interaction among Arctic States, Arctic indigenous communities and other Arctic inhabitants on common Arctic issues.

It was established in 1996 through Ottawa Declaration. It is headquartered in Tromso, Norway.

Mandate:

It seeks to addresses issues faced by Arctic states, its indigenous people and its other inhabitants. It also seeks to promote coordination, cooperation and interaction among its stakeholders on common issues but mainly on environmental protection and sustainable development in Arctic.

Members:

Total eight countries having sovereignty over the lands within Arctic Circle (66°33

′

N) are its members. They are United States, Canada, Denmark (representing Greenland and Faroe Islands), Iceland, Norway, Sweden, Finland and Russia.

Observer Countries:

These are 12 non-artic member states viz. France, Germany, India, China Italy, Japan, South Korea, Netherlands, Poland, Singapore, Spain and United Kingdom.
Himadri Arctic research station
India has its Arctic research station 'Himadri' in Svalbard, Norway since 2008. It is located at International Arctic Research base. It was set up by India's National Centre for Polar and Ocean Research, an autonomous institute under Union Ministry of Earth Sciences. It works on mass balance of glaciers, studies effect of global warming on water bodies and observes the formation of clouds and precipitation. Data gathered from this station is used by Indian researchers to study if there exists co-relation between Indian monsoon and Arctic region.