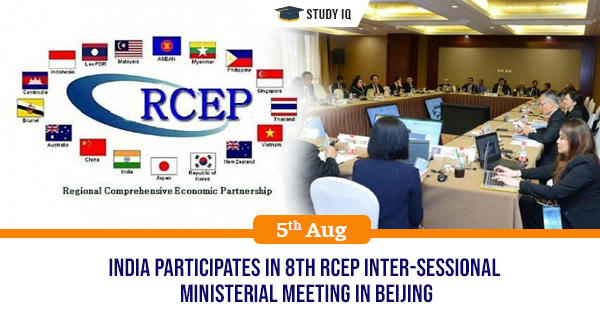 India Participates in 8th RCEP Inter-Sessional Ministerial Meeting in Beijing
Date: 05 August 2019
Tags: Indian Foreign Policy
Context: The Commerce Secretary Dr. Anup Wadhawan led a delegation to the 8th RCEP Inter-sessional Ministerial meeting held in Beijing on 2-3 August 2019.
Highlights of the meeting:
On the side-lines of the Ministerial meeting, the Commerce Secretary held bilateral meetings with his counterparts from China, Thailand, South Korea, New Zealand, Australia, Singapore, Indonesia, Japan and ASEAN Economic Ministers.

In his meeting with Vice Minister of Commerce of China, the Commerce Secretary emphasized the importance of an RCEP agreement that would duly address the causes of existing trade imbalances. He used this opportunity to flag bilateral market access related issues on various categories of products in which discussions are ongoing between India and China. He also emphasized the importance of easing the business visas regime of China for Indian business travellers.
During his meeting with Minister for Trade, Republic of Korea, Commerce Secretary pushed for concrete measures to improve the India-Korea CEPA and address concerns regarding imbalances. He also asked for early resolution of issues pertaining to market access for India's services sector.
Anou RCEP: The Regional Comprehensive Economic Partnership (RCEP) is a proposed free trade agreement (FTA) between the ten member states of the Association of Southeast Asian Nations (ASEAN) (Brunei, Cambodia, Indonesia, Laos, Malaysia, Myanmar, the Philippines, Singapore, Thailand, Vietnam) and its six FTA partners (China, Japan, India, South Korea, Australia and New Zealand).