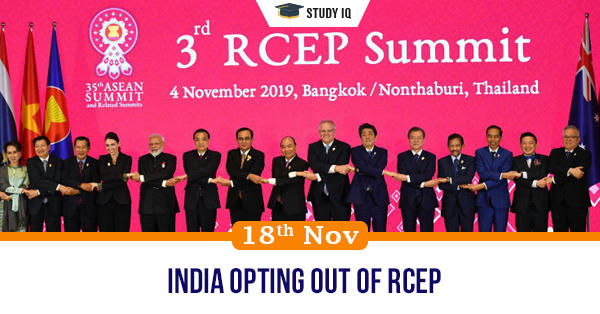 India opting out of RCEP
Date: 18 November 2020
Tags: International Organizations
Issue
Globally, 15 countries have solidified their participation in the Regional Comprehensive Economic Partnership (RCEP).
Background
RCEP was originally being negotiated between 16 countries — ASEAN members and countries with which they have free trade agreements (FTAs), namely Australia, China, Korea, Japan, New Zealand, and India.
Details
The purpose of RCEP was to make it easier for products and services of each of these countries to be available across this region.

India has trade deficits with 11 of the 15 RCEP countries, and some experts feel that India has been unable to leverage its existing bilateral free trade agreements with several RCEP members to increase exports.

Escalating tensions with China are a major reason for India's decision. While China's participation in the deal had already been proving difficult for India due to various economic threats, the clash at Galwan Valley has soured relations between the two countries.
India's concerns
India feels there could also be a possible circumvention of rules of origin, in the absence of which some countries could dump their products by routing them through other countries that enjoyed lower tariffs.

The need to safeguard the interests of industries like agriculture and dairy and to give an advantage to the country's services sector. The current structure of RCEP still does not address these issues and concerns.

India was unable to ensure countermeasures like an auto-trigger mechanism to raise tariffs on products when their imports crossed a certain threshold.

It also wanted RCEP to exclude most-favoured nation (MFN) obligations from the investment chapter, as it did not want to give the benefits it was giving to strategic allies or for geopolitical reasons.

India felt the agreement would force it to extend benefits given to other countries for sensitive sectors like defence to all RCEP members.

RCEP also lacked clear assurance over market access issues in countries such as China and non-tariff barriers on Indian companies.
Implications of the move
There are concerns that India's decision would impact its bilateral trade ties with RCEP member nations, as they may be more inclined to focus on bolstering economic ties within the bloc.

There are also worries that India's decision could impact the Australia-India-Japan network in the Indo-Pacific, which would promote a Supply Chain Resilience Initiative among the three.
Way ahead
India, as an original negotiating participant of RCEP, has the option of joining the agreement without having to wait 18 months as stipulated for new members in the terms of the pact.

There is also a growing view that it would serve India's interest to invest strongly in negotiating bilateral agreements with the US and the EU, both currently a work in progress.