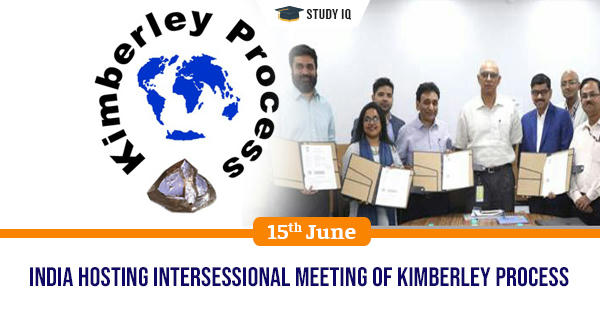 India hosting Intersessional meeting of Kimberley Process
Date: 15 June 2019
Tags: International Organizations
India will be hosting Intersessional meeting of Kimberley Process (KP) from 17th to 21st June, 2019 in Mumbai, Maharashtra. Along with it, meetings of different Working Groups and Committees of Kimberley Process Certification Scheme (KPCS), two special forums regarding Diamond Terminology and Artisanal Mining – Small Steps to Larger Outcomes, will be also held.
Kimberley Process
It is international certification scheme that regulates trade in rough diamonds with aim of preventing flow of conflict diamonds, while helping to protect legitimate trade in rough diamonds.

It is joint initiative involving Government, international diamond industry and civil society to stem flow of Conflict Diamonds.

Kimberley Process Certification Scheme (KPCS)

: It outlines rules that govern trade in rough diamonds. It came into effect from 1st January, 2003.

As per its provisions, each shipment of rough diamonds being exported and imported by crossing international border can be transported in tamper proof container and accompanied by validated Kimberley Process Certificate.

The shipment can only be exported to co-participant country in KPCS. No uncertified shipments of rough diamonds are permitted to enter a participant country.

Participants:

At present, KPCS has 55 members representing 82 countries including European Union with 28 members. India is the founding member of KPCS.

Chairmanship of Kimberley Process:

It is chaired on rotating basis, by participating countries. Its Vice-Chair is generally elected by KP Plenary each year, who becomes the Chair in the next year.

India is Chairman of KPCS for the year 2019 with Russia as Vice Chair. India had earlier chaired KPCS in the year 2008.
Important Note: Kimberley Process in formal sense is not international organization and has no permanent offices or permanent staff. It relies on contributions under principle of burden-sharing of participants and is supported by industry and civil society observers. KP also cannot be considered as an international agreement from legal perspective, as it is implemented through national legislations of its participants.
Conflict Diamonds: They are also known as 'blood' diamonds. They are basically rough diamonds used by rebel movements or their allies to finance conflict aimed at undermining legitimate governments. It is also described in United Nations Security Council (UNSC) Resolutions.