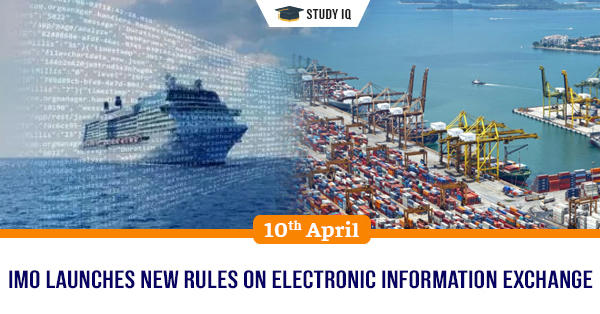 IMO launches new rules on electronic information exchange
Date: 10 April 2019
Tags: International Organizations
International Maritime Organisation (IMO) has launched new mandatory rules for national governments to introduce electronic information exchange between ships and ports. The objective of new rules is to make cross border trade easy and hassle free. These rules have come effect from April 8, 2019.
Need for New Rules
IMO's Convention on Facilitation of International Maritime Traffic (FAL Convention) mandates news rules as part of amendments under revised Annex to FAL Convention, adopted in 2016. It is important measure as 10 billion tonnes of goods which are traded by sea annually across the globe.
FAL Convention
It was adopted in 1965. Its main objective is to achieve most efficient maritime transport as possible, looking for smooth transit in ports of ships, cargo, and passengers. It encourages use of single window for data and mandates all information required by public authorities in connection with arrival, stay and departure of ships, cargo and persons to be submitted via single portal, without duplication. Under this requirement for electronic data exchange, all national authorities are mandated for electronic exchange of this information.
India's PCS1x
To meet mandatory requirement under IMO's FAL Convention, India (Ministry of Shipping) has launched Port Community System (PCS1x) in December 2018. PCS1x is cloud-based new generation technology, with a user-friendly interface. It enables maritime trade to have improved communication with customs.
International Maritime Organization (IMO)
It is specialised agency of UN responsible for regulating shipping. It was established in 1948 in Geneva, Switzerland and came into force in 1959.

It is headquartered are in London, United Kingdom. It has 174 member states including India and 3 associate members.

Mandate:

Take measures to facilitate international maritime traffic, improve safety and security of international shipping and to prevent pollution from ships.

It is also involved in legal matters, including compensation and liability issues.

Functions:

It develops and maintains comprehensive regulatory framework for shipping and its remit.

Its framework aims to addresses various areas like safety, environmental concerns, technical co-operation, legal matters, maritime security and efficiency of shipping.