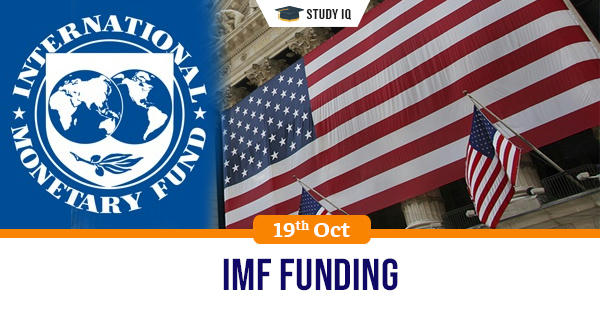 IMF funding
Date: 19 October 2019
Tags: International Organizations
Issue
Members of the International Monetary Fund (IMF) have agreed to maintain its funding at $1 trillion but postponed changes to its voting structure, which is termed as a compromise with the US, which wants to maintain the status quo.
Background
Quotas are supposed to be reviewed every five years although these reviews can be delayed. The review's outcomes included a doubling of the quota total and a shift in some voting rights to under-represented and emerging market countries.
Details
Deal will allow an extension of non-permanent, supplementary sources of funds such as the New Arrangement to Borrow (NAB), a renewable funding mechanism and bilateral borrowings from countries which the IMF had entered into after the 2008 financial crisis to increase its lending ability.

The agreement extended the bilateral borrowing facility by a year to the end of 2020 and a potential doubling of the NAB.

The agreed package will leave IMF quotas (the primary source of IMF funds), which determine voting shares, unchanged.
IMF quotas
A member country's quota determines its maximum financial commitment to the IMF, its voting power, and has a bearing on its access to IMF financing.

When a country joins the IMF, it is assigned an initial quota in the same range as the quotas of existing members of broadly comparable economic size and characteristics.

IMF quotas are distributed according to a four pronged formula that considers a member country's GDP, its economic openness, its economic variability and international reserves.
Importance of Quotas
A member's quota subscription determines the maximum amount of financial resources the member is obliged to provide to the IMF.
The quota largely determines a member's voting power in IMF decisions. Each IMF member's votes are comprised of basic votes plus one additional vote for each SDR100,000 of quota.
The amount of financing a member can obtain from the IMF (its access limit) is based on its quota.
India's position
India's current quota in the IMF is SDR (Special Drawing Rights) 5,821.5 million, making it the 13th largest quota holding country at IMF and giving it shareholdings of 2.44%.