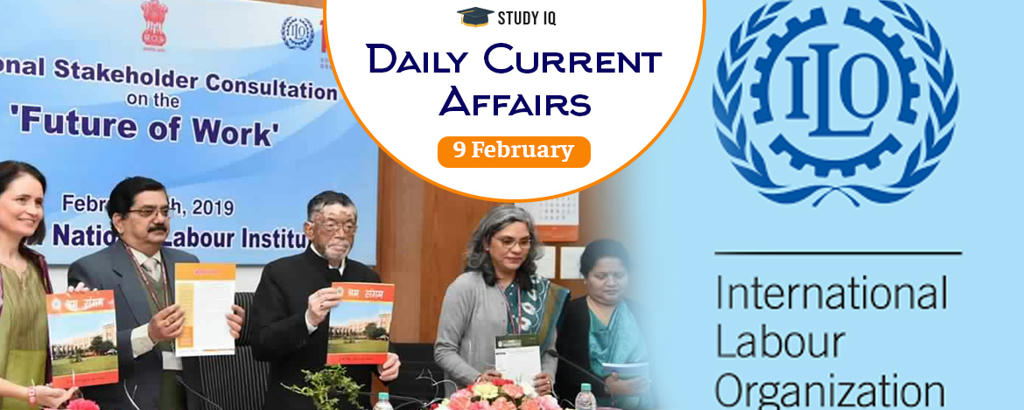 Centenary celebrations of International Labour Organization
Date: 09 February 2019
Tags: International Organizations
The centenary celebrations (100 years) of International Labour Organization (ILO) in India was inaugurated at V.V. Giri National Labour Institute, Noida, Uttar Pradesh. ILO was established in 1919 and India being its founding member.
International Labour Organization (ILO)
It is United Nations agency that deals with labour issues, particularly international labour standards, social protection, and work opportunities for all.

It is unique UN agency which is tripartite in nature and works on principal of collaboration among government, employers and workers.

It was established in 1919 as agency of League of Nations. It is headquartered in Geneva, Switzerland. At present, it has 187 members (186 of 193 UN member states plus the Cook Islands)

It has developed system of international labour standards aimed at promoting opportunities for both men and women to obtain decent and productive work, in conditions of freedom, equity, security and dignity.

The principal means of action in ILO is setting up of International standards in form of Conventions, Recommendations and Protocol.

Conventions are legally binding international treaties that may be ratified by member states while recommendations are non-binding guidelines.

It was awarded Nobel Peace Prize in 1969 for improving fraternity and peace among nations, pursuing decent work and justice for workers, and providing technical assistance to other developing nations.
India and ILO
India being its founding member of ILO. It has always played active role in every field of ILO and so far has ratified 47 out of 189 ILO conventions. Out of eight core conventions India as ratified six and two conventions (C-138 and C-182), which were related to child labour were ratified recently.