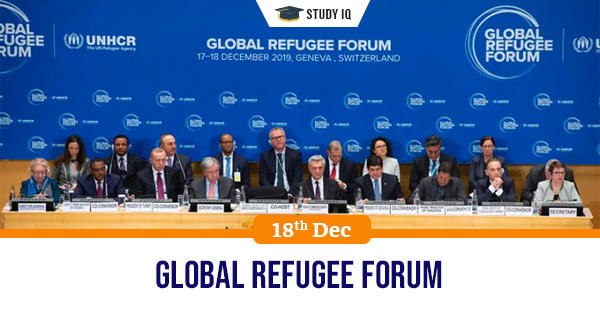 Global Refugee Forum
Date: 18 December 2019
Tags: International Organizations
Issue
The first Global Refugee Forum (GRF), a two-day gathering of United Nations member states, began in Geneva, Switzerland.
Background
The Forum is jointly hosted by the United Nations High Commissioner for Refugees (UNHCR) and the government of Switzerland. It aims to debate and discuss the response of the world's countries to the global refugee situation.
Details
According to the UNHCR, the first GRF is being held at the end of a tumultuous decade in which the number of refugees has risen to over 25 million people worldwide.

The GRF will be held every four years at the Ministerial level. It is intended to present an opportunity for UN member states and other stakeholders to announce action plans and pledges towards meeting objectives such as easing the burden on the host country, enhancing refugee self-reliance, expanding access to third-country solutions, and supporting conditions in countries of origin for return in safety and dignity.

The first GRF has been organised around six areas of focus: burden- and responsibility-sharing, education, jobs and livelihoods, energy and infrastructure, solutions, and protection capacity.

Some of the issues discussed at the Forum include the displacement of Afghans and Central Americans, providing education for refugee children, and emergency situations and financial support through Islamic finance.
UNHCR
The United Nations High Commissioner for Refugees is a United Nations agency with the mandate to protect refugees, forcibly displaced communities and stateless people, and assist in their voluntary repatriation, local integration or resettlement to a third country.

UNHCR's mandate does not apply to Palestinian refugees, who are assisted by UNWRA.

Its headquarters are in Geneva, Switzerland and it is a member of the United Nations Development Group.
Functions
The agency is mandated to lead and co-ordinate international action to protect refugees (other than Palestinian refugees) and resolve refugee problems worldwide.

Its primary purpose is to safeguard the rights and well-being of refugees. It strives to ensure that everyone can exercise the right to seek asylum and find safe refuge in another state, with the option to return home voluntarily, integrate locally or to resettle in a third country.

UNHCR's mandate has gradually been expanded to include protecting and providing humanitarian assistance to whom it describes as other persons "of concern," including internally displaced persons (IDPs).