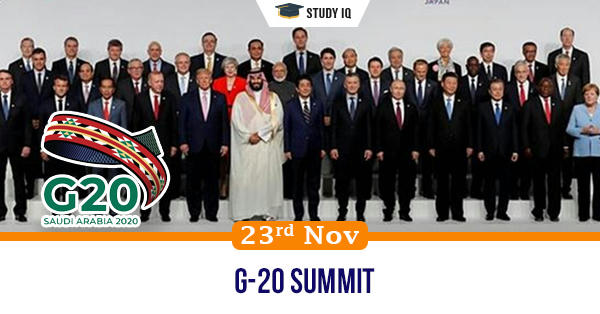 G-20 summit
Date: 23 November 2020
Tags: International Organizations
Issue
Prime Minister Modi participated in the virtual G 20 summit organised by Saudi Arabia and spoke about preservation of planet and skill development.
Details
G 20
The G20 (or Group of Twenty) is an international forum for the governments and central bank governors from 19 countries and the European Union (EU).

It was founded in 1999 with the aim to discuss policy pertaining to the promotion of international financial stability,

Membership of the G20 consists of 19 individual countries plus the European Union. The EU is represented by the European Commission and by the European Central Bank.

Collectively, the G20 economies account for around 90%[5] of the gross world product (GWP), 80% of world trade (or, if excluding EU intra-trade, 75%), two-thirds of the world population, and approximately half of the world land area.
Host and secretariat
The G20 operates without a permanent secretariat or staff. The group's chair rotates annually among the members and is selected from a different regional grouping of countries.

The incumbent chair establishes a temporary secretariat for the duration of its term, which coordinates the group's work and organizes its meetings.

The 2018 chair was Argentina, which hosted the 2018 summit in Buenos Aires. The 2019 chair was Japan, which hosted the 2019 G20 Osaka summit.

The current chair of it is Saudi Arabia, which plans to host the 2020 G20 Riyadh summit. The 2021 summit is planned to be held in Italy. The 2022 Summit is planned to be held in India.
Membership
As of 2020 there are 20 members: Argentina, Australia, Brazil, Canada, China, the EuropeanUnion, France, Germany, India, Indonesia, Italy, Japan, Mexico, Russia, Saudi Arabia, South Africa, South Korea, Turkey, the United Kingdom, and the United States. Spain is a permanent guest invitee.

In addition, each year, the G20's guests include Spain; the Chair of ASEAN; two African countries (the chair of the African Union and a representative of the New Partnership for Africa's Development (NEPAD) and a country invited by the presidency, usually from its own region.