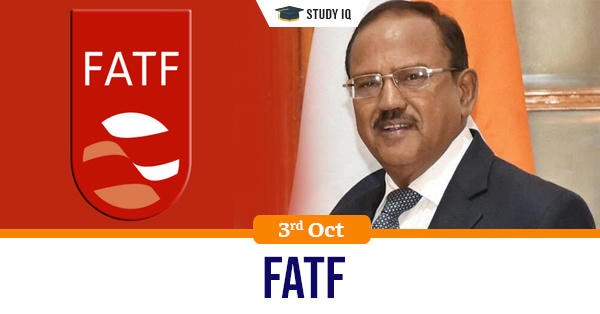 FATF
Date: 03 October 2019
Tags: International Organizations
Issue
National Security Advisor Ajit Doval has made a visit to Saudi Arabia, the first Arab country to become a member of the FATF, as part of India's diplomatic offensive strategy to push for blacklisting of Pakistan under FATF.
Background
Saudi Arabia, had received an invitation from the FATF at the beginning of 2015 to join as an observer member and was later admitted into the organisation. The current chair of FATF is China, one of the biggest allies of Pakistan. This has made India to increase its efforts to gain support from other countries.
Details
Pakistan was put in the greylist last year under the FATF chairmanship of the US, needs to meet a series of commitments.

The assessments so far have indicated that it has not met most of those commitments, and faces the threat of being blacklisted during the plenary session.
FATF
The Financial Action Task Force, is an organisation founded in 1989 on the initiative of the G7 to develop policies to combat money laundering.

In 2001 its mandate expanded to include terrorism financing. Head quarters is located in Paris, France.

Its functions include developing and promoting policies to protect the global financial system so that it could bot be used by the terrorists and other anti social elements.
Grey list
Those countries which are not considered as the safe heaven for supporting terror funding and money laundering are included in this list. The inclusion in this list is not as severe as black listed.

Grey list is a warning given to the country that it might come in Black list. If a country is unable to curb mushrooming of terror funding and money laundering, it is shifted from grey list to black list by the FATF.
Black list
Only those countries are included in this list that FATF considers as unco-operative tax havens for terror funding.

These countries are known as Non-Cooperative Countries or Territories (NCCTs). In other words , countries which are supporting terror funding and money laundering activities are listed in the Black list.