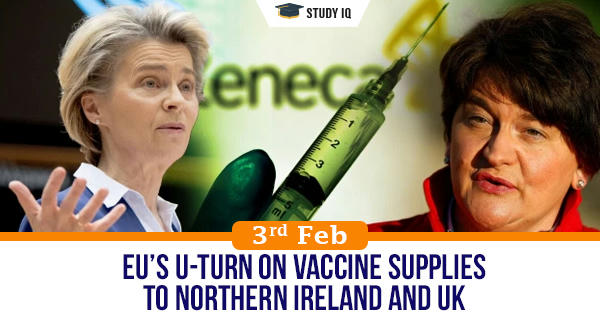 EU's U-turn on vaccine supplies to Northern Ireland and UK
Date: 03 February 2021
Tags: Miscellaneous
Issue
The EU said it would not invoke the Brexit deal's Article 16, which it wanted to do to control the export of vaccines from the bloc to Northern Ireland and the UK.
Background
EU wanted to trigger the article giving it powers to erect checkpoints at the border between Northern Ireland and the UK to restrict vaccines from crossing over.
Details
The EU's decision was reversed within hours, after an uproar in Britain, Northern Ireland, and the Republic of Ireland.

Under the Brexit deal between the bloc and the UK, which went into force with the start of 2021, Northern Ireland is to remain a part of the EU single market.

This means that there is supposed to be an open border between the EU and Northern Ireland, with no restrictions on exported goods.

Article 16 of the Northern Ireland Protocol creates an exception to this principle. By invoking this legal measure, either the EU or the UK can unilaterally suspend any part of the Brexit deal which is causing "economic, societal or environmental difficulties".
Reasons for invoking
In the EU, the debate is on about delays in the production and distribution of Covid-19 vaccines to its member countries.

Many member states have accused Brussels of being slow in finalising contracts with pharmaceutical companies to ensure the rollout of vaccines, as compared with other rich countries such as the UK and the US.

This has placed great pressure on the EU leadership, as doubts have arisen whether the bloc can stick to its plan of vaccinating 70% of adults by the summer.

Matters worsened after British-Swedish manufacturer AstraZeneca that it would cut down on vaccine deliveries due to problems at one of its facilities in the EU.
The U-turn embarrassment
Ever since the UK chose to leave the EU during the Brexit referendum of 2016, the Irish border had remained a stumbling block in negotiations to decide the future of the EU-UK relationship.

The EU appeared to be expressing disregard for its own long-held position on the Irish single market issue. This has put out questions on EU's credibility.

The EU was also criticised for not consulting member countries, or the UK, before announcing the Article 16 decision.