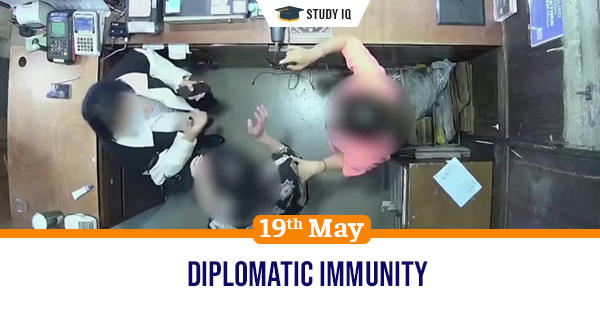 Diplomatic immunity
Date: 19 May 2021
Tags: Miscellaneous
Issue
The wife of Belgian envoy to South Korea will be exercising her diplomatic immunity to avoid criminal charges for hitting local citizens.
Background
The issue has sparked debate on the extent of diplomatic immunity enjoyed by diplomats and their family.
Details
The wife of the ambassador was trying out clothes in a boutique and later went outside without paying or changing into older ones.

The staff reportedly went behind her to retrieve the goods. The envoy's wife then began hitting the employees before leaving the shop.

After the CCTV footage went viral on social media, common citizens began questioning the behaviour and the extent of diplomatic immunity.
Diplomatic immunity
A diplomatic immunity provides exemption in criminal and taxation laws for diplomats posted in another country.

It was developed to allow diplomats to work independently without fear of intimidation or threat from the host country.

The idea of diplomatic immunity evolved over two international conventions, popularly known as the Vienna conventions.

They are the Convention on Diplomatic Relations, 1961, and the Convention on Consular Relations, 1963, which have been ratified by more than 180 countries including South Korea.
Exemptions in immunity
The home country can wave immunity if a diplomat has committed a serious crime or witnessed one, which has no relation to his/her official work.

Diplomats posted in consulates also enjoy immunity but they can be prosecuted if the crimes are serious in nature.