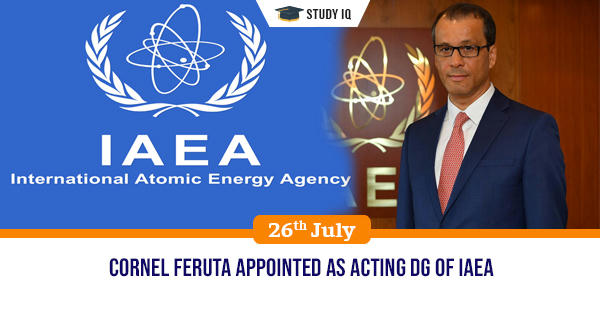 Cornel Feruta appointed as acting DG of IAEA
Date: 26 July 2019
Tags: International Organizations
Romanian diplomat Cornel Feruta was appointed as new acting (interim) Director General of International Atomic Energy Agency (IAEA). His appointment comes after the UN nuclear watchdog's longtime head Yukiya Amano, who died recently and had led IAEA since 2009
About International Atomic Energy Agency (IAEA)
It is the world's central intergovernmental forum (watchdog) for scientific and technical cooperation in peaceful use of nuclear technology and nuclear power worldwide.

It is autonomous international organization within UN system set up in July 1957 through its own international treaty-IAEA Statute. It is headquartered in Vienna, Austria. India is a member of IAEA.

It reports to both UN General Assembly (UNGA) and Security Council (UNSC). It works for the safe, secure and peaceful uses of nuclear science and technology, contributing to international peace and security and Sustainable Development Goals.

It encourage development of peaceful applications of nuclear energy, science and technology, provide international safeguards against misuse of nuclear technology and nuclear materials, and promote nuclear safety (including radiation protection) and nuclear security standards and their implementation.