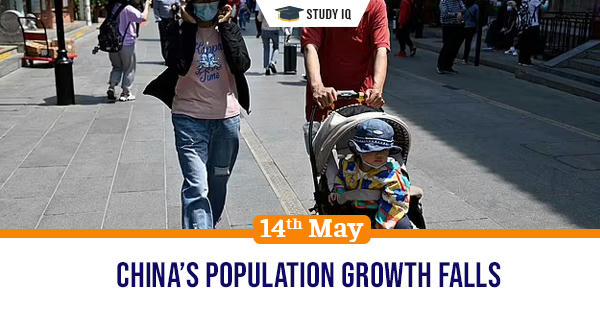 China's population growth falls
Date: 14 May 2021
Tags: Miscellaneous
Issue
The official census has shown that China's population growth was the slowest in the decade 2010-2020 since the 1950s.
Background
Many countries are adopting measures to control population, including China. The rate of decline is however very alarming.
Details
Similar population growth trend has also been observed in more developed economies such as South Korea and Japan.

The population growth declined by over 18 percent compared to last year. The fertility rate has fallen to 1.3, which is way below than the replacement rate of 2.1.
International response
The United Nations had expected that China's population may start declining after 2030s and it may see low population growth rate.

Going by the current trend, China's population is already declining. India may overtake its population by as early as 2025.
Population data
In the past 10 years, its population grew by only 0.53 percent. This was lower than the growth rate between 2000 and 2010.

The percentage of children below 14 years in population has grown by 6.79 per cent from 2010. The percentage of people above age 60 has also gone up.

The data also showed that more people were shifting towards the prosperous regions on the eastern coast from interior of the country.
Reasons for the decline
China's stringent one child policy had discouraged couple from having more children. Further, cost of living has been a major roadblock for increase in numbers.
Concerns
The government has to adopt new strategies to keep growth rate high despite lesser young people joining workforce and current population ageing.

If number of working individuals decrease, the revenues may begin drying up and burden of old-age pensions and healthcare will fall on the government.
Remedial measures
The government has relaxed the one child norm since 2016, in a bid to increase the birth rate in the country.

It is also looking at incentivising couples for having more children in cities where the cost of living is higher and couples cannot afford for bigger family.