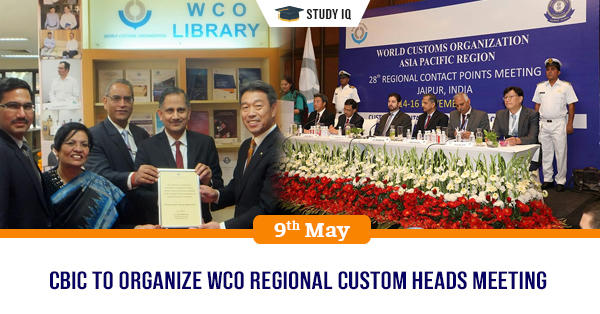 CBIC to organize WCO regional custom heads meeting
Date: 09 May 2019
Tags: International Organizations
Central Board of Indirect Taxes and Customs (CBIC) is organising meeting of Regional Heads of Customs Administration of World Customs Organisation (WCO) from Asia Pacific Region in Kochi, Kerala. India will be hosting this meeting in its capacity as Vice Chair of Asia Pacific region of WCO, which it had assumed in July, 2018 for a two-year period.
About Meeting
It will take stock of the progress being made in carrying forward programmes and initiatives of WCO to promote, facilitate and secure the cross-border trade in the region and the capacity building and technical assistance required to achieve this goal. It will see participation of Customs delegations from more than twenty countries of Asia along with senior officials of WCO and its regional bodies, i.e. Regional Office for Capacity Building (ROCB) and Regional Intelligence Liaoning Office (RILO).
World Customs Organisation (WCO)
It is independent intergovernmental body that aims enhance effectiveness and efficiency of Customs administrations.

It is the only international organization exclusively focused in domain of customs matters.

It plays leading role in discussion, promotion, development and implementation of modern customs systems and procedures.

It maintaining international Harmonized System (HS) goods nomenclature. It also administers technical aspects of World Trade Organization (WTO) Agreements on Customs Valuation and Rules of Origin.

It was established in 1952 as Customs Co-operation Council (CCC) and had adopted its current name in 1994. It is headquartered in Brussels, Belgium.

Membership:

It represents 182 customs administrations across the globe that collectively process approximately 98

%

of world trade. It membership is divided into six regions whereby each region is represented by elected vice-chairperson to WCO Council.

Objectives:

Enhance efficiency and effectiveness of customs administrations of member countries. It also assist them to successfully contribute to national development goals, particularly revenue collection, trade facilitation, national security, etc.

Functions:

It offers range of international instruments and conventions, as well as technical assistance and training services to its members.

It supports its members in their endeavours to modernize and build capacity within their national Customs administrations.

It promotes emergence of honest, transparent and predictable customs environment, thus directly contributing to economic and social well-being of its members.

It plays vital role in stimulating growth of legitimate international trade and combats fraudulent activities.