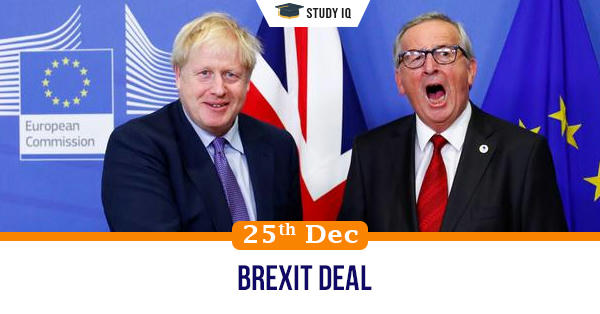 Brexit deal
Date: 25 December 2020
Tags: International Events
Issue
Britain and the European Union have arrived at a provisional free-trade agreement as part of the new Brexit deal.
Background
The two sides attempted to strike a deal ahead of a December-31 deadline, when the UK's post-Brexit transition period officially ends.
Details
By striking a zero-tariff and zero-quota deal, they will be able to safeguard the trade of goods between the UK and the EU, which amounts to around $1 trillion annually.

The United Kingdom entered an 11-month transition period on January 31st this year during which it continued to follow EU rules.

Failure to strike a deal before the December 31 deadline would result in a no-deal Brexit, which could have far- reaching ramifications both domestically and internationally.
Aspects of the deal
The deal was negotiated to determine key aspects of their relationship including a viable trade agreement, defence, security and immigration once the transition phase ended.

The major differences were on the issue of fishing rights, governance, and guaranteeing a 'level playing field' on government subsidies and regulations.

A level playing field essentially means that in order to trade with the EU's single market, the UK will have to follow the same rules and regulations to ensure that it does not have an unfair advantage over other EU businesses.

The deal will dictate how any deal is enforced as well as the penalties that will be imposed if one party violates the terms of a mutually-approved agreement.

The UK will also have to agree on how it will cooperate with the bloc on issues pertaining to security and law enforcement once it officially withdraws from the European Arrest Warrant on January 1, next year.

Britain feels obligated to make an unambiguous assertion that any new agreement on fisheries has to be based on the acceptance of "British fishing grounds" being "first and foremost for British boats".