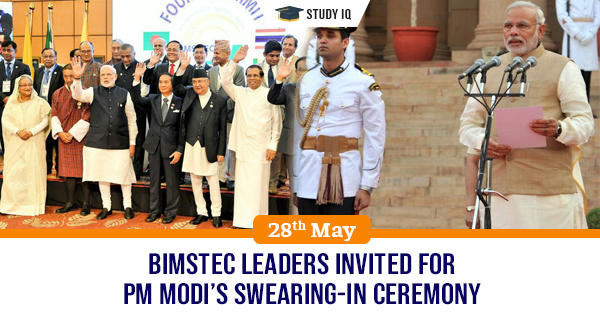 BIMSTEC leaders invited for PM Modi's swearing-in ceremony
Date: 28 May 2019
Tags: International Organizations
Ministry of External Affairs (MEA) has invited leaders of Bay of Bengal Initiative for Multi-Sectoral Technical and Economic Cooperation (BIMSTEC) Member Countries to attend the swearing-in ceremony of Prime Minister Narendra Modi on May 30, 2019. It also has sent invitations to Sooronbay Jeenbekov, President of Kyrgyzstan who is the current Chair of the Shanghai Cooperation Organization (SCO) and Mauritius Prime Minister Pravind Jugnauth. But there is no invitation to Pakistan, a strong signal that India is not willing to engage with Pakistan .
2014 swearing-in ceremony of PM Modi
In 2014, all the 7 leaders of South Asian Association for Regional Cooperation (SAARC) including Pakistan Prime Minister Nawaz Sharif were invited for the oath-taking ceremony of PM Modi.
About BIMSTEC
It is regional group of seven countries from South Asia and South East Asia lying in littoral and adjacent areas of Bay of Bengal constituting contiguous regional unity.

It was established in 1997 through Bangkok Declaration. Its headquarter (secretariat) is in Dhaka, Bangladesh.

BIMSTEC's Mandate:

Promote technological and economic cooperation among south Asian and south-east Asian countries along coast of the Bay of Bengal.

Member countries

: Nepal, Bangladesh, India, Bhutan, Sri Lanka from South Asia and Thailand and Myanmar from South East Asia. These seven countries are collectively home to around 1.5 billion people which constitute around 22

%

of global population.

It functions as sector-driven cooperative organization, started in 2006 with six sector including technology, trade, energy, tourism, transport and fisheries.

In 2008, it was expanded to embrace eight more sectors including agriculture, poverty alleviation, public health, counter-terrorism, environment, culture, people to people contact and climate change.

Summits:

The first summit was held in Thailand in 1997; 2nd in 2008 in India, 3rd in 2014 in Myanmar and 4th in 2018 in Nepal. Sri Lanka is the current Chair of the BIMSTEC.