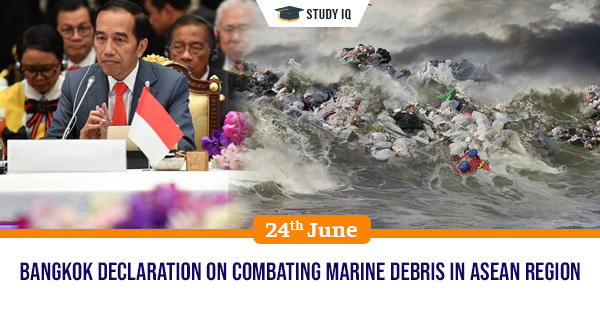 Bangkok Declaration on Combating Marine Debris in ASEAN Region
Date: 24 June 2019
Tags: International Organizations
Leaders of the 10-member Association of Southeast Asian Nations (ASEAN) adopted Bangkok Declaration on Combating Marine Debris in ASEAN Region. The declaration comes ahead G20 summit in Japan, which assembles 20 major economies and will also aim to tackle marine plastic pollution
Bangkok Declaration
It aims to strengthen actions at national level as well as through collaborative actions to prevent and significantly reduce marine debris.

It also seeks to strengthen national laws and regulations as well as enhance regional and international cooperation including on relevant policy dialogue and information sharing.

However, this declaration and neither its accompanying Framework of Action specifically mention bans on single-use plastic or imports of foreign waste.
Background
According to 2015 report co-authored by environmental campaigner Ocean Conservancy, four ASEAN member counties Indonesia, Philippines, Vietnam and Thailand, along with China are world's top polluters, throwing most plastic waste into oceans.
Association of Southeast Asian Nations (ASEAN)
It is regional intergovernmental organization comprising 10 countries in Southeast Asia viz. Vietnam, Laos, Brunei, Philippines, Malaysia, Singapore, Cambodia, Thailand, Myanmar and Indonesia.

It promotes intergovernmental cooperation and facilitates economic, political, security, military, sociocultural and educational integration among its members and other countries in Asia.

It was established on August 8, 1967, after adaptation ASEAN declaration (also known as Bangkok Declaration). Its secretariat is located in Jakarta, Indonesia.