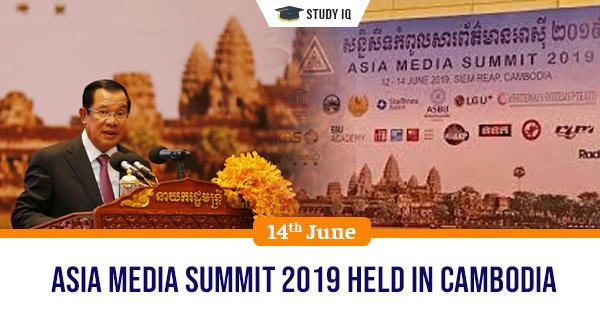 Asia Media Summit 2019 held in Cambodia
Date: 14 June 2019
Tags: International Organizations
The Asia Media Summit 2019 was held in Siem Reap province, Cambodia from 12 June to 14 June 2019. It was 16th edition of summit and last one (15th) was hosted by India. This year's summit was organized by Cambodia's Ministry of Information in collaboration with the Asia-Pacific Institute for Broadcasting Development (AIBD). It deliberated on many issues pertaining to media & broadcasting industry.
Asia Media Summit 2019
Theme of Summit:

"Media Digitalization Focusing on Developing Markets". It called for regulation-making to fight against fake news and cyber-crimes.

Participation:

More than 600 media representatives from 42 countries and regions participated in event.

Purpose:

It held discussion on spread of disinformation and fake news and its impact on governments, media, private sector and society.
Asia-Pacific Institute for Broadcasting Development (AIBD)
It is regional inter-governmental organisation servicing countries of United Nations Economic and Social Commission for Asia and the Pacific (UN-ESCAP) in field of electronic media development.

Established in:

1977 under auspices of UNESCO.

Secretariat:

Kuala Lumpur, Malaysia.

Mandate:

To achieve vibrant and cohesive electronic media environment in Asia-Pacific region through policy and resource development.

Membership:

26 full members (countries), represented by 34 organisations and 67 Affiliate Members (or organisations) and over 50 partners in Asia, Pacific, Africa, Arab States, Europe and North America.