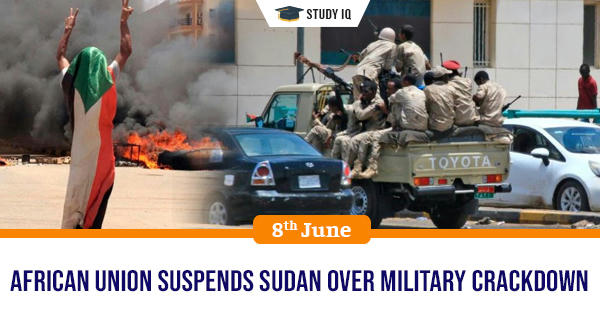 African Union suspends Sudan over military crackdown
Date: 08 June 2019
Tags: International Organizations
African Union (AU) has suspended participation of Sudan in all AU activities until effective establishment of Civilian-led Transitional Authority. It comes after Sudan's military launched a brutal crackdown on protesters that killed dozens of people in the capital, Khartoum. AU also has warned of further action if power is not transferred to civilian authority - a key demand of pro-democracy protesters. The military leadership had taken control over the country after ouster of President Omar al-Bashir in April 2019 in military coup following large-scale pro-democracy protests.
About African Union (AU)
It is pan-Africa continental union consisting of 55 countries. Its structure is loosely modelled on that of European Union. It is headquatered in Addis Ababa, Ethiopia.
It was founded in May 2001 in Addis Ababa, Ethiopia and launched in July 2002 in South Africa. It had replaced Organisation of African Unity (OAU).

Main objectives:

(i) Promote unity and cooperation among African nations and strive to spread democracy and good governance in the continent. (ii) Accelerate process of integration in continent to enable it play its rightful role in global economy while addressing multifaceted social, economic and political problems. (iii) Safeguard sovereignty and territorial integrity of Member States and (iv) Promote international cooperation within the framework of the United Nations.

Structure:

AU Assembly is its most important decisions making body. It is a semi-annual meeting of heads of state and government of its member states.

It also has official bodies such as Peace and Security Council and Pan-African Parliament.