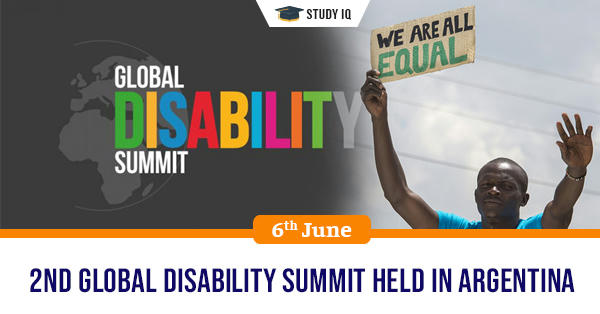 2nd Global Disability Summit held in Argentina
Date: 06 June 2019
Tags: International Organizations
The second edition of Global Disability Summit will be held in at Buenos Aires, Argentina from 6-8 June 2019. It is being organised by International Alliance Disability (IDA) and Latin American Network of Non-Governmental Organizations of Persons with Disabilities and their Families (RIADIS).
2nd Global Disability Summit
Objective:

Deliberate on issues across the world concerning empowerment and inclusion of Persons with Disabilities (PwDs) and to work out mechanism for enabling them to live an independent and dignified life.

Features:

It will be a follow-up to the first "Global Disability Summit" held in London in 2018. It seeks to strengthen commitment of world to ensure full inclusion of people with disabilities and guarantee their rights, freedoms and human dignity.

India's representation:

Union Minister for Social Justice and Empowerment Thaawarchand Gehlot is leading Indian delegation to this summit.
About International Disability Alliance (IDA)
It is umbrella organization focused on improving awareness and rights for individuals with disabilities around the globe. It was established in 1999.

It is alliance of eight global and six regional organisations of persons with disabilities (PWDs). It advocates for more inclusive global environment for PWDs and their organisations.

It represents estimated one billion people worldwide with disabilities, which is the world's largest and most frequently overlooked marginalised group.

Mandate:

It works closely with Non Governmental Organizations (NGO's), supranational organizations such as United Nations (UN), as well as state governments to create legislation, fund disability programs in developing and industrialized countries, and advocate for PWDs around the world. It uses UN Convention on Rights of Persons with Disabilities (UNCRPD) as its code of conduct. It also ensure that 2030 Agenda and Sustainable Development Goals is inclusive and in line with UNCRPD.