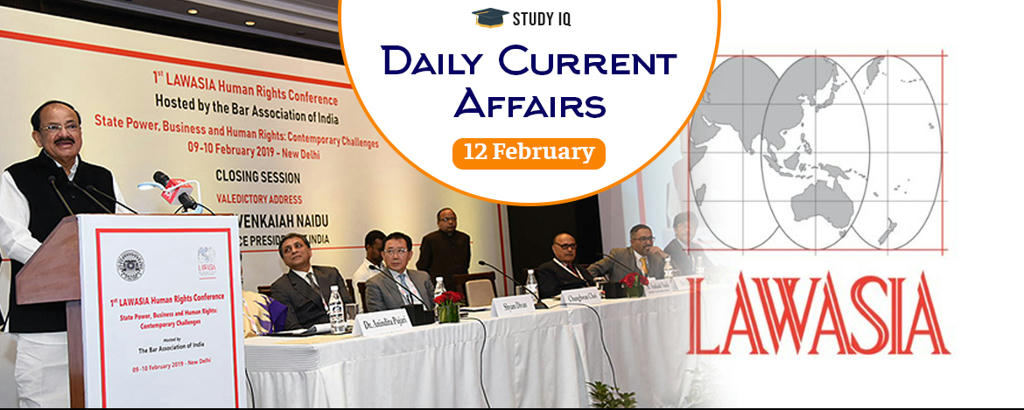 First LAWASIA Human Rights Conference held in New Delhi
Date: 12 February 2019
Tags: International Organizations
The first LAWASIA Human Rights Conference was held recently New Delhi. It was organised by Law Association for Asia and the Pacific (LAWASIA), in association with Bar Association of India. The theme of the conference was "State Power, Business and Human Rights: Contemporary Challenges". It explored a wide range of human rights issues of relevance in the Asia Pacific region.
1st LAWASIA Human Rights Conference
The conference was aimed at providing unique opportunity for lawyers and associated professional members to exchange insights and expertise on topics of significant importance to all.

It explored wide range of human rights issues of relevance in Asia Pacific region including gender, sexuality and human rights; new technologies, privacy and mass surveillance.

It also explored issues of aggressive policing and human rights; freedom of press in digital age; cross-border migration and its conflicts; experiences and challenges of human rights lawyers; climate change, water conflicts and human rights and business and human rights.
LAWASIA
It is regional association of lawyers, judges, jurists and legal organisations, which advocates for interests and concerns of the Asia Pacific legal profession.

Its central aim is to strengthen professional and business relations among law associations, lawyers, private sector and government representatives in the Asia Pacific.

It advocates for interests of legal profession, cross-border exchange of legal resources, and commitment to rule of law, professional integrity and human rights.