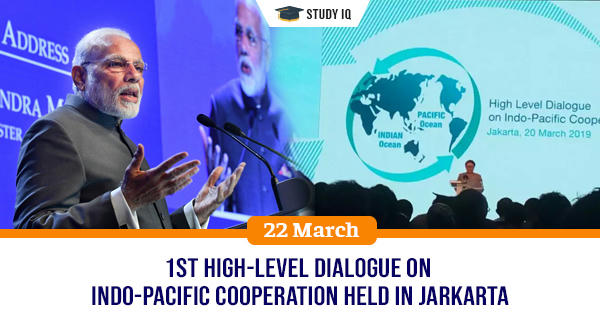 1st High-Level Dialogue on Indo-Pacific Cooperation held in Jarkarta
Date: 22 March 2019
Tags: International Organizations
The first ever High-Level Dialogue on Indo-Pacific Cooperation (HLD-IPC) was held in Jakarta, capital of Indonesia. It was organized by Government of Indonesia and saw participation of 18 countries Indo-Pacific region including India.
1st High-Level Dialogue on Indo-Pacific Cooperation (HLD-IPC)
It was first forum for the 18 countries to discuss the concept of Indo-Pacific. Its theme was 'Towards a Peaceful, Prosperous, and Inclusive Region'.

Its objective was to urge all participating governments to talk openly about their plans for increasing cooperation and for building trust in Pacific Ocean and Indian Ocean region.

It seeks to serve as dialogue platform in attempt to establish collective synergy in creating safe, stable, and prosperous Indo-Pacific region.

It had thematic discussions on three major regional issues, including maritime cooperation, infrastructures and connectivity, and Sustainable Development Goals (SDGs).
Background
Indo-Pacific region is home to 3/5th global population with total GNP of almost US$ 52 trillion. Renewed cooperation framework among countries in Indo-Pacific region is crucial for ensuring peace, stability, and mutual prosperity of the region. HLD-IPC was organized by Indonesia for providing stabile and inclusive cooperation platform for regional economic growth and welfare.