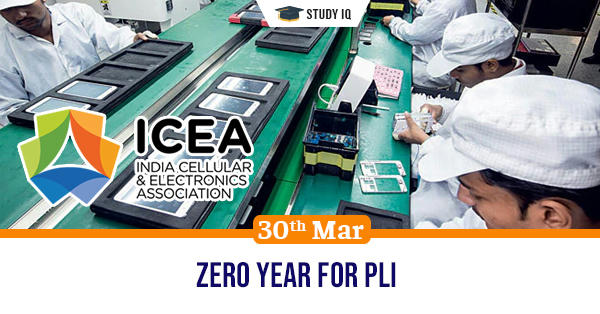 Zero year for PLI
Date: 30 March 2021
Tags: Miscellaneous
Issue
The Indian Cellular and Electronics Association (ICEA) has asked the authorities to consider 2020-21 as zero year for production-linked incentive (PLI) scheme in terms of mobile manufacturing.
Background
The government had introduced PLI scheme in order to boost manufacturing of goods in India, especially electronics.
Details
PLI schemes for all sectors incentives firms for achieving minimum level of incremental investment and incremental sales of manufactured goods net of taxes.

Cumulative incremental investment means that every company has to invest a certain amount of money in addition to the investments they have already made before the PLI scheme is notified.

Additional funds invested by the company in setting up new plants or expanding the capacity of existing plant will be eligible for getting the incentive.

The companies should also register incremental sales from products made either from a new plant or the expanded unit of the same plant.

The FY 2021 was considered the base year for calculating incremental investments and sales for PLI in mobile manufacturing.
The new request
Cell phone makers have asked the government to consider FY 2021 as zero base year. It means that for calculating incremental investments and sales incentives, the government should consider FY 2022.

The companies say that the lockdown in the initial phase of this fiscal year gave them very little time to get started with the building of or expansion of old units.

They also say that lack of skilled labour and other resources have caused delay in meeting the targets for the first year.

Delayed approvals for getting land clearances for expanding and setting up new units was also cited as a reason for delay.